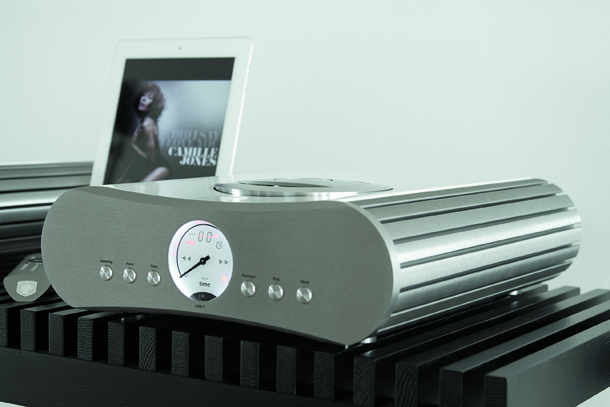 At Gato Audio we are very pleased to announce the long awaited and very versatile CDD-1 CD player and D/A converter. It has now been delivered to our distributors and their dealers whom are ready to demonstrate its superior sound quality and stunning beauty.
Developing CD players and D/A converters is almost an art form, it takes loads of time and huge amount of patience to master the delicate mix of digital and analogue signal circuits. In the heart of the CDD-1 you will find the Philips CDpro2 mechanism, mounted in 1kg of machined aluminum suspended in a tripod of Sorbothane viscolastic material. A special clamp/lid solution secures and stabilizes the CD while spinning – all in the name of eliminating mechanical resonances.
The asynchronous USB and a coaxial S/PDIF digital inputs, able to accept up to 24bits/192kHz – ensures a extremely versatile use of the CDD-1. High definition music from digital streaming devices, computers or even directly from an iPad, will benefit from the ultra detailed D/A converter and analogue section of the CDD-1.
An ultra low jitter clock signal feeds the sample rate converter and the dual mono, dual differential coupled Burr brown PCM1794 DACs. Carefully selected I/V converters and analogue output stage – both optimized in hundreds of hours of listening and adjusting – ensures a clean, musical and spotless reproduction of the delicate signals.
Again this year Gato Audio will be present at the HIGH END 2012 audio show in Munich, Germany from 3-6th of May. You will find us in hall 3, booth C10, where we look forward to show you our entire range of products together with a few brand new ones…
Visit www.highendsociety.de for further info about the show.
via: Gate Audio