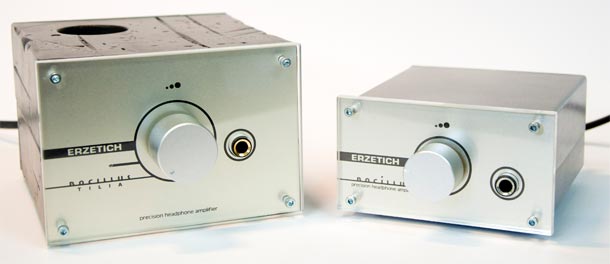 Slovenia, September 5, 2012
Office, lack of space, portability, little kids sleeping in the next room: these are the factors that make the use of audio speakers hard or even impossible for music lovers. An obvious solution to this problem are headphones. Like speakers, headphones need a good and powerful amplifier, too, to get most out of them. Sound cards and players mainly do have an incorporated headphone amplifier, but usually they don't deliver enough power.
Headphone amplifiers have been around for some time now and you can find them in all kinds of shapes and price ranges. They are also an essential item in an audiophile's equipment.
Erzetich Audio released a Bacillus series of two amplifiers. Both models are hand made and tested one by one.
"With our initial range of headphone amplifiers, we thought about two categories of users: sound professionals and home users. Bacillus is a portable hard aluminium cased amplifier that will help sound engineers and musicians drive their headset properly, whether this is in a studio or on the go, while Bacillus Tilia targets more at good-sound lovers, who wish not only a hi-end headphone amplifier but also an aesthetic piece of art, a hand made object on their table. With their outstanding linearity, ranging from 5 Hz to 500 kHz, and constant power, these amplifiers won't leave any audiophile indifferent," says Blaž Erzetič, the man behind Erzetich Audio.
As a homage to the Slovenian heritage, the Tilia line (currently consisting of an amplifier and a headphones stand) is made of linden wood, hand crafted, artificially aged and painted with eight coats of varnish. Not two of them have the same pattern, making every unit unique.
Bacillus twins are expecting the birth of their (evil) brother Perfidus in late autumn.
For more information visit www.erzetich-audio.com.
About Erzetich Audio
Erzetich Audio is focused on personal audio, specifically on headphone amplifiers and accessories. The company is located in the west of Slovenia, in the woods of Trnovo, not really far away from the border with Italy. Erzetich Audio products keep a clean and fine industrial design, as well as a simple use and positioning. They strive to keep the units as compact as possible by incorporating the power supply directly into chasis, having no need for annoying external power supplies.