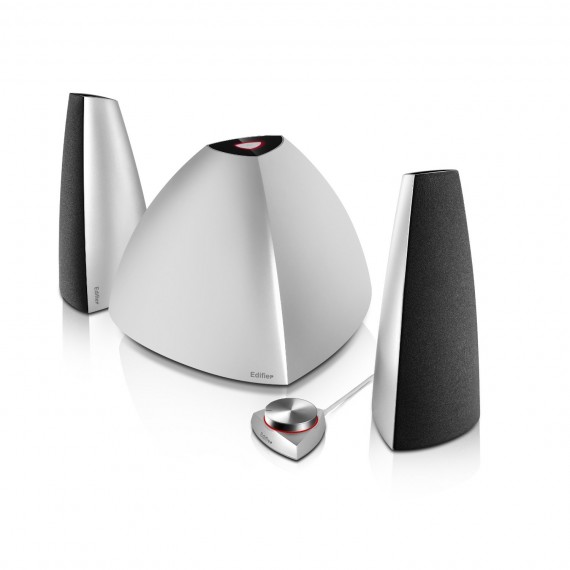 Edifier E3350 Speaker System – What You Need To Know
Pros:
Good Sound

Easy on the Pocket Book

Great Design

Cons:
The Edifier E3350 2.1 computer speakers look great next to your Mac and they sound good to boot. The exotic looking pyramid sub-woofer and satellites speakers make this system as much a life style piece as much as an entertainment center. Edifier isn't a very well known company but this system should be on your short lists of 2.1 systems under $150. With great reviews on Amazon and at the Apple Store. Folks who bought it are very happy.
The 5-inch, magnetically shielded, sub-woofer goes down to 30Hz and crosses over at 130Hz and pumps out 32W of power. The 2¾-inch oval shaped speakers, also magnetically shielded, come in at 160Hz and extend well into the 20kHz region. With 9W of power each. The system as a whole can get pretty loud if you need it too. And sound good to boot.
The one thing that the E3350 gets knocked for it the amount of cables. But if you are crafty you will be able to hide them and have a clean looking desk top.
More Computer Speaker Systems from Edifier >>
Search AudioReview forums for the Edifier E3350 2 Speakers >>