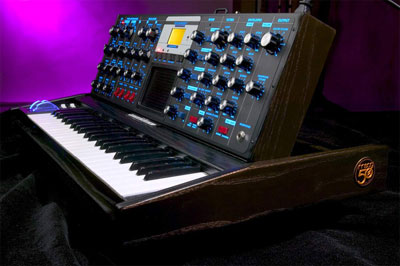 With the exception of Robert Moog and Leon Theremin, perhaps, many of the names associated with the innovation and development of electronic music have slipped into obscurity. Sad too is the collective anonymity celebrating the memory of the early composers and performers for the electronic medium. Invoke the names Ussachevsky and Leuning and one is apt to not a knowing smile, but a glower of fathomless perplexity. Except for the notable, ardent few admirers, these names have all but faded from view: too bad, for their contribution to twentieth century music is incalculable; too bad for us, who listen oblivious to music unaware of the contributions of these and others, whose work made so much that is commonplace today possible.
Except for National Public Radio's (NPR) Echoes, a program that airs electronic music nightly, there are few occasions for new electronic music listeners to give an ear to the compositions wrought on such instruments. Part of this is due, sadly, to the widely scorned image of such contraptions, which have been variously described as buzzing, cacaphonous sounding devices, capable only of producing eerie sound effects and perhaps a few intelligible notes. The other side to this despondent coin is found in the ubiquity of such instruments–synthesized keyboards mostly–which have become such a vital voice that they have all but disappeared altogether.
People who listen and have listened to electronic music will reject the first assertion without hesitation. They will gladly tell you that, even within the past forty-odd years, electronic instruments have become much more refined and are capable of presenting a multitude of sounds, or voices, of great, affective beauty. While many compositions written for such instruments truly is of an ethereal and other worldly quality, many other works are quite familiar in their tone; quite terrrestrial, indeed.
Consider, for example, the oeuvre of Wendy (Walter) Carlos. In 1968, Carlos released the seminal album, Switched on Bach, an homage to the great composer performed on Robert Moog's synthesizer. The music was quite unlike anything many listeners had ever heard before, performed as it was on an electronic behemoth whose presence was anything but familiar. But listen to it again! Despite the strange, electronic emanations produced by the instrument, there is an unmistakable sense that in spite of that, the instruments for which Old Bach had written are pretty admirably presented. Consider again that that work came out in 1968….Well, you get the idea.  Among admirers of early electronic music, Switched on Bach is a favorite, and for good reason. Considering the impact the work had on introducing Robert Moog's device and its encouragement of further development of the instrument, Switched on Bach is a classic in every sense of the term.
Forty one years past 1968, and the design and craftsmanship of synthesizers has resulted in folks getting a lot more out of the instrument than people like Carlos and Moog were, doubtless, able to presage. In Germany, Edgar Froese and his freunden were hard at work, experimenting with pre-recorded tapes and playing strange and wonderful music to back it up. Their group, Tangerine Dream, was eventually signed on to Richard Branson's fledgling Virgin Records label, and the album Phaedra handily climbed the billboard charts with nearly the same brisk vitality of Branson's other star artist, Great Britain's Michael Oldfield's Tubular Bells. With encouragement from the success of Phaedra and its follow-up album, Rubicon, it wasn't long before Tangerine Dream was approached to compose music for film. It was William Friedkin, of Exorcist fame, who approached the Berliners, and they produced an album, Sorcerer, in splendid style. Since then, Tangerine Dream has shown little sign of slowing down. Although many personnel have joined and left the band, they have produced a staggering number of albums. As their sound has evolved, so has their contribution to electronic music, and Froese and his mates have consulted with many electronic instrument makers, like Roland, in the development of many of the instruments that are used today.
Another German composer who should be noted is Klaus Schulze, a former Tangerine Dream member who went solo shortly after his departure from the group. Schulze's works are amazingly erudite and fertile numbers of great atmosphere and presence. Many works incorporates traditional instruments that are woven within the music in seamless and intricate tapestry. Listen to the album, Trancefer, to get the idea. Another Tangerine Émigré is Chritopher Franke, who left Froese after contributing much to TD's signature eeriness, including work on the soundtrack to the Michael Mann movie, Thief and the Star Tek spin-off, Babylon 5. Other members like Johannes Schmoelling and Peter Bauman and the drummer Klaus Krieger all contributed their hand to this amazing and prolific Krautrock band.
In many ways, the British championed electronic music, and happily brought the enormous bundles of wires and plugs to the stage. Names like Rick Wakeman, Keith Emerson, Richard Wright and dozens others  wowed audiences who were more than happy to light up and trip out to the music these wizards produced. Emerson's virtuoso performances with Emerson Lake and Palmer floored fans with his dept prowess in performances of moog-drenched renditions of Copeland, Mussorgsky and others. Wright, on the other hand showed that keyboard synthesizers were not only of interest to psychedlic  music fans–of which he was more than happy to oblige–but fans who were interested in something more contemporary.  Wright's super-sonic finger work on albums like Dark Side of the Moon and Wish You Were Here are truly terriffic performances that are ardently listened to today. Meanwhile, on the other side of the spectrum were glam artists, like David Bowie and Brain Eno, who were producing soundscapes of their own chord. Their compositions opened many doors of possibility and showcased the synthesizer as a truly, ambient instrument that could handily stand on its own feet. Eno's work with Roxy Music, Bowie, Robert Fripp and his solo career have all added amazing color to the British kaleidoscope. Still, in other milieus, Jeff Lynne and the Electric Light Orchestra dazzled erstwhile classical music listeners to their own form of pop music. Paying due respect to the masters, the ELO appealed to thousands of adoring fans with hits like Mr. Blue Sky, Living Thing and the album Eldorado.
Special note should go to the works of Michael Oldfield, who at about nineteen years old produced the monster album, Tubular Bells, whose (in)famous leitmotif was famously adopted by the producers of the movie, The Exorcist. Oldfield was well known even before that album, having been snapped up by Soft Machine's Keven Ayers, who liked Oldfield's bass picking. Since Tubular Bells, Oldfield has produced around 25 or so albums and soundtracks, nearly one a year since 1973, producing beautifully rendered vistas of sound in doing so. Oldfield plays many instruments, and his albums are testament not only to his ability as a composer, but as a rare performer whose sensitivity and canny knowing references have been widely noted by many smart people, including Arthur Clarke, whose Songs of Distant Earth was adapted by Oldfield in an album of the same name.
On the other side of the world, the Japanese artist Isao Tomita took to the synthesizer and created an album that showed listeners that electronic versions of classical were still relevant and quite commercially viable. His first album, Snowflakes Are Dancing, is an incredibly trippy but musical exploration of the works of Debussy. Since that album, dozens of others have emerged from Tomita's murky collective, Plasma Music, including homage to Holst, Groffe, Stravinsky, Prokofiev and Mussorgsky.
In France, the synthesizer entranced the artist Jean Michel Jarre, son of world-famous film composer, Maurice. After studies at the Lycee, Jean Michel was soon creating his own music after being encouraged to produce sounds from a variety of electronic sources. His albums Oxygene and Equinoxe are still favorites of many adoring fans. Another French composer of no little note was Jean Luc Ponty, a violinist of amazing ability and proficiency. His jazzy performances on albums like Enigmatic Ocean have caught the ear of many keen-eared admirers, like Elton John, who used him in one or two albums of their own.
In Italy, electronic music composition was championed by groups like Milan's Premiata Forneria Marconi, whose progressive contributions were proof positive that their competitors, such as England's King Crimson were not the kings of the mountain. Albums such as The World Became the World are still terriffic and awful–true musts for any fan of the genre.  To many people, associations of Italian electronic music conjure the likes of Georgio Moroder, whose driving beat and erotically pulsing throbs were the darlings of the disco era. Moroder's artistic sensibility is quite formidiable, however; his musical versatility noted by Paul Schraeder, who employed Moroder to score his 1982 hit movie, Cat People. Other works in Midnight Express and Scarface are noteworthy scores that belie the talent that was scarcely noted on the dance floor, where Donna Summer reigned supreme.
In Greece, the creation of electronic music was of keen interest to the piano prodigy who soon would simply be known by the name, Vangelis. Vangelis, a keen pianist of rare and brilliant artistry, soon went solo after embarking in his career with the band, Aphrodite's Child. Best known for his soundtracks to films like Blade Runner and Chariots of Fire, Vangelis' music has been widely heard on numerous television advertisements and on Public Television, where a portion of his album Heaven and Hell (which featured Yes' Jon Anderson) was used as the theme to Carl Sagan's Cosmos.
In America, the use of synthesized and electronic music was widely used and the patheon of innovators and inventers is encyclopedic. Mention has already been made of Wendy (Walter) Carlos for her variations on Bach. No less important was Carlos' work on film, with musical contributions made to movies like Tron, Clockwork Orange and, of course, The Shining. Carlos' has produced many albums and has been instrumental in developing many of the technologies used in modern day instruments. Her album, Beauty In the Beast shows the artist's study of intonation and form, which is displayed in an blindingly lurid collection of pieces inspired, in part, by Balinese music.
Another early American electronic music pioneer is Laurie Anderson, who has explored the medium extensively, and has produced many fine albums, including Big Science, Mister Heartbreak and Life on a String. Anderson's craftsmanship has an ethereal, ambient sound that is visceral and vibrant, nevertheless. Even today, after many albums, she continues to evoke images that are astonishingly fresh and virile.
Another American pioneer is Larry Fast, also known as Synergy, is another pioneer of American electronic music, whose works were noted by Rick Wakeman, who took him on to assist with their album, Tales from Topographic Oceans. Fast has also worked extensively with Peter Gabriel and the popular American rock group, Foreigner, producing a sound that was, and is, quite appealing to many adoring thousands.
In a sense, electronic music is the red-haired step child of music proper, the very antithesis, in many music lovers' minds of what constitutes music. But what is music, if not a pleasing presentation of sound to evoke mood? Even before the strange and ethereal sounds of the Theremin, the thought that electricity could be harnessed to produce mellifluous tones was seen nearly as anathema to those who thought that only strings, wind and percussion were capable of presenting anything earworthy. Other pioneers like Mager, whose Spherophone (AKA Electrophone) introduced the music early, but their contributions are scarcely remembered.
Today, the electronic message is a forceful, but anonymous presence that reminds us that the quest for sound and innovation is a continuing journey that has as much appeal today as it did when things Electronic Music-wise took off. Today, groups like Air and Stereolab continue to pay homage to their progenitors, but they are rare exceptions to the crowd of musicians who scarcely know anything of their origins….
In these paragraphs, only a cursory introduction to the masters of the form is presented; there is so much more to listen to and explore that this poor tribute is but a meagre beginning. For those of you thirsting for the real thing, you must seek them out, now, for yourself!
---
images source: media.bluedistortion.com and of course the awesome Moog