DAC Products and New Reserve Series Cables to be Featured at the Denver show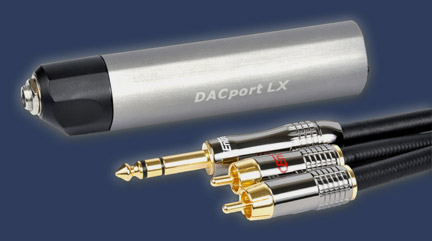 Chicago, IL – September 29, 2011 – CEntrance, Inc., will be again exhibiting at Rocky Mountain Audio Fest (RMAF) in Denver CO., October 14, 15 and 16. A boutique Design Agency and Manufacturer of fine audio products, CEntrance will showcase their recently released DACmini CX(tm) – an audiophile headphone amp and digital audio converter and DACport LX(tm) – the world's smallest 24/96 USB DAC. In addition, CEntrance will premier a new, custom-built interconnect cable designed for perfect synergy with DACport and DACport LX. The cable is part of the new Reserve Series and features audiophile-grade copper for reproduction accuracy, gold-plated terminals for low impedance connection, gunmetal finish for strong outside protection, and a 3-layer braided outer shield to preserve signal integrity. The cable features a Stereo 1/4″ Jack and Dual RCAs.
CEntrance brings over 10-years of professional audio sensibility to the home Hi-Fi environment creating a new category of 'Pro-Audiophile' products. The CEntrance booth will be located in Room C15 at the Denver Marriott Tech Center Hotel. For more information on the RMAF visit: http://audiofest.net/2011/
Michael Goodman, Managing Director of CEntrance, will be on-hand to speak with attendees, answer questions, and demonstrate the growing line of CEntrance "Pro-Audiophile" products. "DACport is the World's smallest USB DAC with audiophile sound and it needed a proper interconnect cable allowing connections to headphone amps, preamps, amplified speakers and any other stereo equipment", said Goodman. "We are excited to bring out our new Reserve Series cables, which are designed for perfect synergy with the DACport. They complete the package nicely."
The recently released DACmini CX is a compact 192kHz, 24-bit Digital to Analog Converter and Class A Headphone Amplifier. It's a DAC and Headphone Amp with multiple I/O options including: USB, optical, Coax S/PDIF, analog input and output, and a front-mounted 1/4-inch connector for professional headphones. DACmini's stylish form-factor matches the classic Apple "Mac mini" computer footprint, creating a perfect platform for an audiophile-level music server. Priced at $795, DACmini CX excels at Professional and Home Audio applications alike.
CEntrance is expanding its dealer network in the pro and home industry segments. To inquire about becoming a dealer, please call +1 (847) 581-0500 or e-mail us at sales@centrance.com.
About CEntrance, Inc.
Founded in 2000, CEntrance develops innovative audio entertainment products. CEntrance is known for its co-development work with industry leaders such as Gibson, Benchmark, PS Audio, KORG, and Line 6. Our customer-focused approach blends quality, innovation, and operational efficiency. CEntrance is headquartered in Chicago and distributes its products worldwide. Key products include new DACmini, MicPort Pro, AxePort Pro, and DACport, which offer portable, professional recording and playback quality, earning enthusiastic endorsements from artists such as Harry Shearer, Nathan East, Frank Serafine and Will Lee, and mastering engineers Bob Katz, Brian Gardner, Michael Romanowski and Mike Wells, among other music industry professionals.
For more information, visit www.CEntrance.com or call +1 (847) 581-0500.
All Trademarks are the property of their respective holders. MicPort, AxePort, DACport, and DACmini are trademarks of CEntrance, Inc.