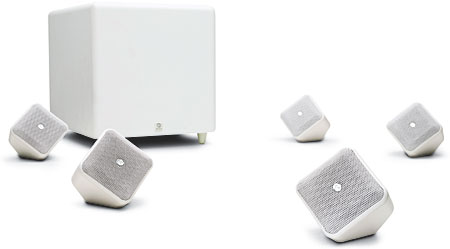 – Boston's Award-Winning Ultra-Compact Speakers Now Available in Stunning High Gloss Finish —
Peabody, MA, September 14, 2011 — Boston Acoustics, Inc., a world-renowned manufacturer of innovative home entertainment solutions and high performance loudspeakers, is once again making really big sound from incredibly small and stylish speakers with the latest addition to its critically acclaimed SoundWare family – the SoundWare XS Special Edition Home Theater Speakers (UAP: $599.99), in both gloss black and gloss white finish. Like the company's award-winning SoundWare XS 5.1 speaker package, the new SoundWare XS Special Edition package features the smallest loudspeakers Boston Acoustics has ever produced. It's ideal for consumers who want to enjoy powerful, room-filling sound in a stylish, ultra-compact system without the traditional "box type" loudspeakers. The system is expected to be available in September.
The system includes five ultra-compact SoundWare XS Special Edition satellites, each measuring less than 4 inches, plus a compact 8" 100-watt (250-watt Peak) powered subwoofer. Notably, for users who want an even more immersive listening experience, Boston Acoustics is making optional SoundWare XS Special Edition satellite speakers available to create a 7.1 system. The system is designed for space-conscious and style driven consumers who want to enjoy great sounding music or powerful home theater audio. Compact satellites provide the rich audio power and performance of true two-way speakers, with 2½-inch (65mm) woofers and ½-inch (13mm) tweeters. The result is astoundingly accurate and pure sounding music, plus room-filling home theater audio.
Boston's "Smart" Features
SoundWare XS 5.1 Special Edition includes "Smart" features designed to give consumers several ways to enjoy all their entertainment content:
Unique SoundWare polyhedron shape for virtually unlimited placement options
Stealth articulating mounting brackets allow the speakers to be hung flush on a wall, or tucked away in a corner while allowing the speaker to be angled towards the main listening area
Powered subwoofer features Boston's Patented BassTrac® circuitry for clear undistorted bass at all listening levels and includes both speaker level inputs and outputs and a line level out, providing consumers with the easiest, most flexible setup
Miniaturized authentic 2-way satellite system for true full range sound
Satellites feature dual wire channels for easy connections
Kevin Zakow, Vice President of Sales for Boston Acoustics, noted: "When we introduced our SoundWare XS 5.1 home theater speaker system, we energized the entire surround sound category, offering high-value, high-style, sonic performance, placement flexibility, and space efficiency. Now, with our new SoundWare XS Special Edition Home Theater Speakers, in either high gloss black or white, we're building on the popularity of compact home theater systems for consumers who have limited space in their homes but still want to experience great sound and style."

About Boston Acoustics
Founded more than 30 years ago, Boston Acoustics is a world-renowned leader in high-performance loudspeakers, tabletop products, and advanced car audio systems. The company's "Play Smart®" approach is reflected in its product design, which allows consumers to enjoy high-performance audio while expressing their personal style and tastes. For more information on the company's full range of advanced products, please visit BostonAcoustics.com.
About D&M Holdings Inc.
D&M Holdings Inc. is a global operating company providing worldwide management and distribution platforms for premium consumer, automotive, commercial and professional audio and video businesses including Denon®, Marantz®, McIntosh® Laboratory, Boston Acoustics®, Snell Acoustics, Escient®, Calrec Audio, Denon DJ, Allen & Heath, D&M Professional and D&M Premium Sound Solutions. Our technologies improve the quality of any audio and visual experience. All product and brand names with a trademark symbol other than the Dolby trademarks listed below are trademarks or registered trademarks of D&M Holdings, Inc. or its subsidiaries. For more information visit, www.dm-holdings.com.
Featured Merchants