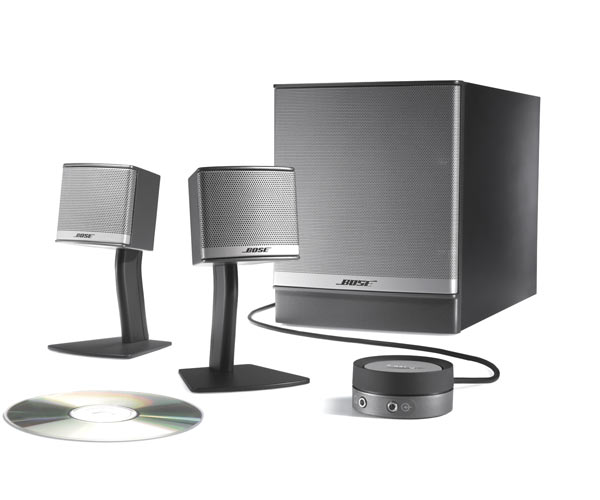 The Bose Companion 3 Series II computer speakers do many things well, they sound good, look great, are extremely easy to use, but their niche is that they really shine for back ground ambient music. Â Let's face it, not everyone likes music to be in their face at high volumes. Â But these aren't for that. Â Want to fill a room with the soft glow and warm sounds after a hard day's work, you might want to give these a listen. Â Now at $249 there is a lot of competition out there for a 2.1 computer speaker system. What sets these apart?

The 3 Series do a good job of staying tonally coherent throughout the volume range, but like stated above, these aren't party speakers. Â They are offer a fair amount of detail for their price point and the TrueSpace technology from Bose helps this little system sound bigger than it really is.
Pros:
Bose proprietary TrueSpace stereo creates a very wide and engulfing sound stage
Great looking speakers next to any modern Mac or PC
Easy to use control pod
Cons:
2.1 systems are very tricky to set up – bass can lag behind the satellite's highs.
The fact that there are 120 reviews of the Companion 3 Series II at the Apple store and it retains a 4.5 of 5 star rating definitely suggest that Bose is doing something right. Many folks enjoy the sound of a Bose system.
There are two magnetically shielded 2-inch long-throw tweeters that sit atop stands. Below your desk top you'd place the 5.25-inch wide-range subwoofer. A 2.1 system with a desk in between the sub and tweeters can have coherency issues. We've learned over time that if you can, the best way to set up a 2.1 desk speaker system is to place the tweeters farther back from your ears than you normally would. And if you have the ability open the space behind your desk for the woofer to breath a full 360 degrees and is located at roughly the same distance from your ears as the tweeters, you'll most likely have a descent and coherent sound.
The 'Pod' control system controls volume, mute, and has a 1/8-inch headphone jack and a 1/8th-inch. A small round control that looks good on the desk and is very easy to use.
If you are familiar with and like the Bose sound you won't be disappointed in this system.
Featured Merchants