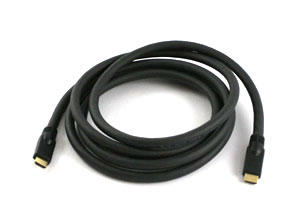 ORLANDO, Fla., June 16 /PRNewswire-FirstCall/ — Belden (NYSE: BDC), a world leader in the development of signal transmission products for enterprise, industrial, building management, broadcast, and security applications, demonstrates the unique cable performance properties of their HDMI cable by running an unamplified 1080p/60 digital video signal 100 feet from a generic Blu-ray Disc player to a generic 1080p/60 display. This demonstration will be featured live throughout the InfoComm/NSCA tradeshow in Orlando, Florida June 17-19, 2009.
"All HDMI cables are manufactured offshore in Asia, with one exception: the HDMI cable made by Belden," states Steve Lampen, Product Line Manager at Belden. He continues, "However, this is just raw bulk cable. To be turned into assemblies, our partner Blue Jeans Cable (www.bluejeanscable.com) sends our bulk cable to China where it is cut and assembled with connectors. We currently make this raw cable in two gauge sizes, 23.5 AWG and 28 AWG, of which the 23.5 AWG is being demonstrated here at InfoComm, running what many say is impossible: a crystal clear 1080p/60 digital video signal over 100 feet."
read the rest at hd.broadcastnewsroom.com
source: hd.broadcastnewsroom.com
Blue Jeans Cable gets a lot of respect on the audioREVIEW forums.