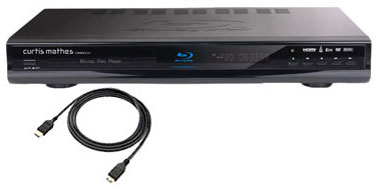 Online retailer Curtis Meijer is the first to offer a sub $100 blu-ray player.  And guess what, it is already sold out!  That should tell those nay-sayers that the only thing holding blu-ray back from the top post is the price point.  $30 per disc is still way too much, but with a $99 player, it makes the whole process a little easier on the pocketbook.  Especially in this economy.  Let the price war begin!
From Curtis Meijer site:
Curtis Mathes Blu-ray Disc Player
Curtis Mathes stands for innovations inspired by real life. Advanced on the inside. Simple, stylish and smart on the outside. For over 30 years, consumers have recognized Curtis Mathes as an innovative and high quality consumer electronics brand. Today, that quality and technology has been designed into Curtis Mathes Blu-ray players. This Blu-ray disc player offers Blu-ray playback at HD resolutions of 1080p/1080i/720p and selectable DVD up-conversion of 720p/1080i/1080p and much more. Includes: remote, A/V cable, manual, and batteries.
Features:
Blu-ray playback at HD resolutions of 1080p/1080i/720p
Selectable DVD up-conversion of 720p/1080i/1080p
HDMI version 1.3 component video – BD/DVD/VCD/CD/CD-R(RW)/DVD+R(RW) playback
Optical digital audio outputs, Ethernet port (service)
11-Bit/108MHz Video D/A converter 24-bit/192KHz audio D/A converter
Output terminal: HDMI/CVBS (composite video)/optical/coaxial output YUV/Ethernet port (service)
Audio: Dolby digital AC-3, 2CH
Main processor: BroadCom 7440
Sony lens + Sunext server
Power source: 100-240V ˜ 50/60Hz
Power consumption: max 35W
Includes: remote, AV cable, manual, batteries
17″W x 2.2″H x 10.2″D
via: electronista.com