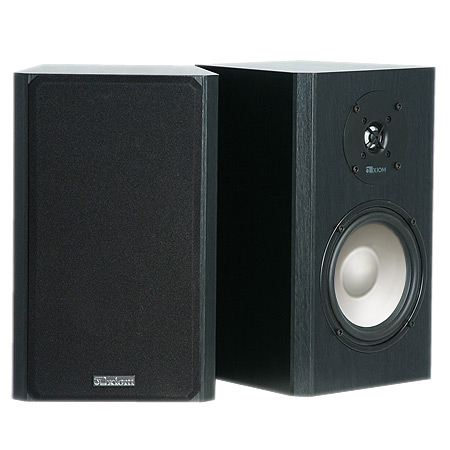 If you have ever browsed AudioReview.com you surely must have seen the ads for Axiom Audio speakers. I have, I see the ads all the time. So I emailed Axiom and asked, "Can you send me a pair to review?" I sit here every day looking at these speakers and haven't really had a good chance to hear them.
Axiom quickly responded and had a set of M3v3 bookshelf speakers on their way. Why the M3v3? Well we often get folks asking about sub $1k bookshelf speakers on the forums. And thus of late I have been deep in the midst of the sub $1k bookshelf speaker jungle. And it is a jungle out there. But this is actually a good thing. It means we have a lot of great options to choose from. And before I make any more dumb jungle analogies, we should move on.
If you are unfamiliar with Axiom Audio, they are a Canadian brand that has been building OEM and their own brand of speakers for many years. Axiom Audio has had a long-term and personal involvement with Canada's National Research Council (NRC). NRC has set the standard for loudspeaker measurements and has also conducted ground breaking psycho-acoustical research. This means that Axiom's speakers are designed by folks who know how we humans hear. And they have that "Canadian Sound"; open, linear and detailed.
Construction and Parts
The first thing everyone seems to notice about the M3v3 is they aren't your typical square box cabinet design. And the second thing any one will point out is that the tapered design is almost unheard of at this price point. The tapered design of the M3v3 cabinet eliminates a lot of internal resonance. The small form factor of the tapered box also makes for one very light weight but rigid design.
The M3v3 are a ported reflex design speaker with a Vortex port at the rear. The Vortex port is Axiom's custom designed port that provides more volume in less space. The M3v3 uses a 6.5" aluminum driver and a 1 inch Ti tweeter. There is a cross over at 2.2kHz but this is a mechanical cross over. As in the woofer quickly rolls off on its own at 2.2kHz and the tweeter takes over from there. This is an extremely unique design that eliminates the possibility of low cost crossover components degrading the audio signal quality. It also saves cost, and is virtually unheard of at this price point. I don't know how Axiom is able to pull it off, but typically all these designs tricks would cost a lot more than $348. But by selling directly to customers and making smart design choices, Axiom achieves in making a low cost speaker that utilizes design tricks and manufacturing techniques from speakers costing many times more.
Let's not even forget the plethora of custom finishes. These finishes do add a bit more to the total price. I was hoping, personally, for a high gloss fire engine red option but settled for the Russian Maple finish (an additional $15.) The finish on the M3v3 that I received was perfect. Not an off seem or defect in site. All seams were very well fitted and frankly it was very nice looking. Axiom also offers real wood finish for an additional $80 and piano black and white in high gloss for an additional $143.20. Hey, don't get upset, beauty doesn't always come cheap.
Paired Equipment
I was lucky enough to have a range of equipment to pair the M3v3 with while they were in my hands. I used the Electrocompaniet PI-2 100W integrated amplifier ($3250), the PrimaLuna ProLogue Premium ($2295), the Mystere ia11 ($1995) and the Van Alstine Omegastar 250EX ($300 used). I also had on hand a variety of expensive interconnects to tweak the sound with. But knowing most folks aren't going to be using $1000 interconnect, I also used a pair of Blue Jean Cable low capacitance Interconnects ($30). Speaker cables ranged from Supra Swords ($1000) to 12 gauge twisted copper cables ($5). As for source, I used a Electrocompaniet PC-1 ($2400) CDP backed by a fantastic Voodoo Platinum Dragon power cable ($800) and a Rega P3/24 with Sumiko Blue Point Evo III and Moon LP3 phono amplifier ($2500 all together). And a Magnvox CDB 482 that I think cost $10 from Goodwill, or the Canadian version of it, since it was sent to me from a forum user who lives in Canada. If you are ever in the need of a smooth analog sounding CD player on the cheap, keep your eye out for this player or players using it's DAC.
To be honest I was unsure at first if I should even pair the M3v3 with equipment costing 10 times its price. Would that be fair to you, the reader of this review? After presenting this issue to the AudioReview forum users we all decided it would be best to test on everything I had at my disposal. This would give me, and thus you the reader, the most information possible, and it might provide some surprising results.
I set up the M3v3's on my VTI VSP ($150) sand filled stands that weigh in at 25lbs. The tweeter ended up being right at ear level. The stands are a bit more pulled out from the back wall than might be best for these little speakers. I did adjust placement of stands and speakers, but at all points the rear port remained about a foot to two off the rear wall. I found I liked the speakers best at a mid field range, about 6ft apart while I sat 6-8ft back, all in a triangle fashion. I tried with the speaker toed in a bit and straight on. I found the image best with the speakers facing straight on. Actually the speakers were really easy to set up. I pretty much just placed them where I thought they should be and they imaged very well with some slightly careless placement, very user friendly that way.