Being blessed by the audiophile bug can put a rather large dent in the old pocket book. Add to that the risk of reselling gear at prices far below what it was purchased for, and one can understand why audiophiles are looking for great gear at more reasonable prices, or just buying used. But the products in these markets are limited. And hunting is time consuming and spending a couple thousand on used gear in 'unknown' condition, or on an unknown manufacturer, can be extremely risky. So Gary Alpern, an audiophile with years of marketing experience both in the audio world and out and a keen ability to measure value and quality, is on a mission to expand the purchasing options in this emerging value market.
Last year Gary started the Audiophile Outlet Store. (www.audiophileoutletstore.com) AOS sells factory authorized products with manufacturer warranties and Gary is focused on products with high quality and reliable sound that will last a life time and not cost an arm and a leg. The idea is to give audiophiles a wider and safer selection of gear. Over stock and B-stock items from reputable manufacturers that might not be available through standard channels are now easily accessible online.
The products on Audiophile Outlet Store are constantly being updated and once something is gone, it is gone for good. Items are priced to sell.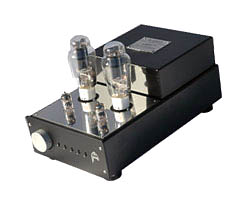 Gary also the importer of Audion products. Audion is the brain child of David Chessel, who was technical director for Audio Innovations, and Mr. Erik Anderson, Audio Innovation's initiator and one of Europe's top audio designers. Since 2000 Graeme Holland has owned Audion and has focused on competing in the ultra high fidelity market with gear sold for much lower prices. He is said to have a natural aversion to over charging customers. Audion products are all 'hand made, point to pointwiring' using the best U.S. and European components. At True Audio (www.trueaudiophile.com) one can find all of Audion's great products. Granted these still aren't entry level prices, but if you want to play with in the majors at minor league prices, this is where it is at.
And while the AudiophileOutletStore.com and TrueAudiophile.com provide a valuable service, I think that Gary's larger goal, to make high-end audio fun, again, is even more valuable.
Anyone with two brain cells can tell you that the business-as-usual approach is no longer working. The only good news we hear these days comes from personal audio sales and kids buying vinyl that is regulated to spend a brief life time on swap meet tables with miss-aligned cartridges. With the collapse of many brick and mortar music stores and the movement of audio into digital downloads, headphones, iPods, the high end retailer is getting little fresh blood. Sure there is some, but go to any hi-fi event and the dominate population is retiring baby boomers. Heck, walk into most hi-fi shops without a nice watch and a beamer outside and see what kind of service you get. While there is talk about change, Gary is the only person I've met who has written a manifesto and is taking some action.
Gary has starting to build an alliance of manufacturers who are concerned with the next generation. These manufacturers want to make quality high fidelity components that compel the youth rather than intimidate them. Gary's ideas about a collective positive and open attitude, a seal of acceptance to play whatever music you want to hear, and the guarantee that the products they sell are made to last a life time and meet the criteria of a high fidelity component, is a great start to a new hi-fi culture. Lets hope, and help, him succeed.