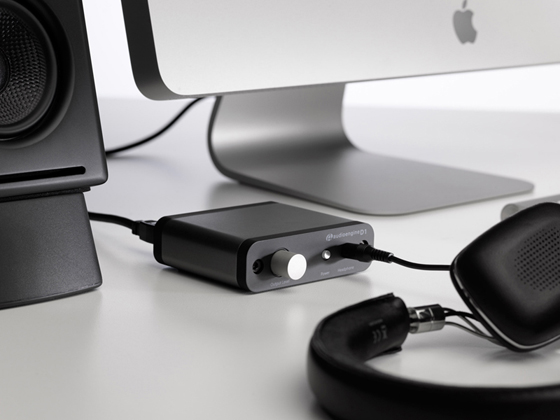 "We've just finished our 6th year and have done our best from the beginning to stay focused on designing great products for people that listen to music from their computers and iDevices" says Brady Bargenquast, Audioengine director. "And with the emergence of high-quality music downloads and advanced media player software, computer audio has now shifted into the domain of the true audiophile". Brady goes on to explain, "And in order to enjoy the full experience of these high-quality music files you need the right gear, such as the Audioengine D1 or game-changing wireless D2 DAC".
Audioengine D1 – Stream high-quality audio from your computer to headphones, powered speakers, or any music system.
D1 bypasses your computer's headphone output or soundcard and sends audio through the USB port, which will improve the audio quality of all your music – even if you don't listen to HD audio yet.
The D1 is a computer DAC capable of converting audio files with bit depths of up to 24 bits and sample rates as high as 192KHz. Audioengine designers, with their attention to audio quality as well as visual aesthetics, have again created a feast for both the eyes and ears. The rounded D1 case reflects the traditional Audioengine design and its smooth audio fidelity is typical of Audioengine's commitment to great sound at an affordable price.
In addition to being an excellent USB computer DAC, the D1 also includes an optical input for DVD/BluRay players, TVs, and game consoles. Setup is easy and no special software drivers are needed, making D1 a true plug-and-play digital audio solution. The D1 output connects to any audio system or powered speakers, such as the Audioengine A5+ or A2 and a high-quality headphone output is also included for headphone enthusiasts.
D1 Features
• Desktop or portable digital-to-analog converter
• Mac or PC plug-and-play, no drivers to install
• High-performance headphone amp included
• USB and optical inputs
• USB-powered
• Stream bit-perfect 24/192 HD audio with low jitter
• Based on the high-performance AK4396 DAC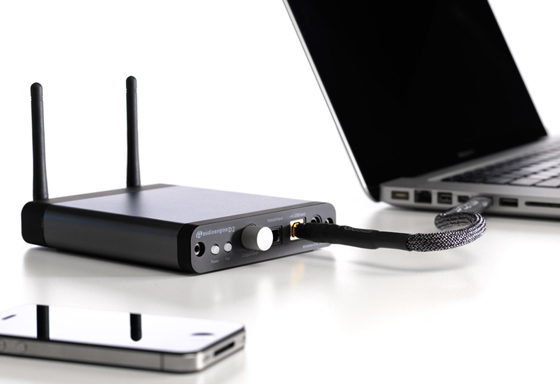 Audioengine D2 – Stream wireless HD audio from your computer to any music system, independent of your Wi-Fi network.
The D2 offers audio fidelity and features of DACs costing several times more, with one very important feature – it's wireless!
"D2 truly is a breakthrough product for computer audiophiles", says Dave Evans, Audioengine director. "The ability to stream bit-perfect 24/96 audio wirelessly from your computer right to your music system not only keeps your computer away from the rest of your audio gear, but also minimizes nagging problems such as ground loops, induced cable noise, and extra jitter".
Dave went on to explain, "The higher-end audio community has embraced computer audio but understandably consider it a sacrilege to put a computer next to their expensive music system. The D2 solves this dilemma and also includes a USB-to-SPDIF wireless bridge for those that already have a favorite DAC."
The D2 Sender will accept USB or an optical input and the D2 Receiver will output optical or analog audio through audiophile-quality RCA connectors. The system utilizes an over-the-air 24bit/96KHz PCM stereo digital stream in a "closed-system" Wi-Fi configuration and its proprietary RF technology ensures data integrity, with no impact on existing routers or networks. In addition, the D2 Sender can simultaneously transmit HD audio to up to 3 Receivers. The volume control is transmitted over an entirely separate channel, so there is no impact on the digital stream.
D2 Features:
• Wireless 24/96 digital-to-analog converter
• Mac or PC plug-n-play, no drivers to install or network setup
• USB-to-S/PDIF converter
• USB and optical inputs
• Optical and analog outputs
• Based on Burr-Brown PCM1792 DAC
• Bit-perfect 24/96 PCM over-the-air transmission
Pricing and Availability
The Audioengine D1 Premium 24-bit DAC has a retail price of US$169 and the D2 Premium 24-bit Wireless DAC is $599 for a Sender/Receiver pair, with extra D2 Receivers sold separately. Both products are available from over 200 authorized Audioengine resellers or online direct: www.audioengineusa.com
About Audioengine
Audioengine designs and builds innovative audio products with all your music in mind. Great sound and useful features at affordable prices.