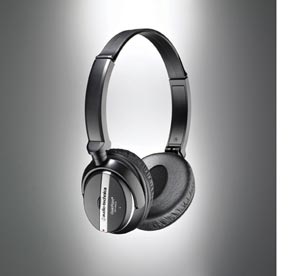 STOW, OH, January 7, 2010 – Audio-Technica today announced the introduction of its new ATH-ANC25 QuietPoint® active noise-cancelling on-ear headphones, which bring the company's acclaimed active noise-cancelling technology to a more affordable price point than ever before (SRP: $99.95). The ATH-ANC25, Audio-Technica's first-ever on-ear ANC headphones, (on exhibit at CES 2010 at the Las Vegas Convention Center, South Hall 1, Booth 21840) blocks up to 80% of environmental noise and offers outstanding sound quality, comfort and portability.
Like all Audio-Technica QuietPoint headphones, including the recently introduced ATH-ANC7b, winner of a CEA Innovations 2010 Design and Engineering Award, the ATH-ANC25 employs technology that detects environmental noise via miniature microphones incorporated into each earpiece, and applies a corresponding sound-cancelling signal. The headphones are engineered to provide clear, spacious and dynamic sound, with impactful bass, a natural midrange and extended treble.
The ATH-ANC25 features soft ear pads for long-wearing comfort. It has a detachable cord with a convenient in-line volume control, and unlike many other noise-cancelling headphones, its audio functions even without batteries or when its noise-cancelling function is turned off. The headphones are compatible with the Apple® iPod®, iPhone TM and iPod touch®, and perfect for use with portable music and DVD players, laptop computers, in-flight entertainment systems and other devices. The ATH-ANC25 folds for easy portability and storage.
The ATH-ANC25 is supplied with a handy travel pouch, a detachable cable with integrated volume control, an airline adapter and an AAA battery.
The Audio-Technica ATH-ANC25 active noise-cancelling on-ear headphones will be available February 2010 online or at Audio-Technica authorized retailers at a suggested retail price of $99.95.
See more Audio-Technica news releases.
Celebrating 48 years of audio excellence, Audio-Technica is renowned worldwide for a broad range of consumer and professional audio products, including high-performance headphones, microphones, wireless systems, turntables and phono cartridges. Winner of numerous industry awards, Audio-Technica designs and manufactures products that set quality, durability and price/performance standards for major concert tours, broadcast and recording studios, corporate and government facilities, theaters, house-of-worship venues, and consumer applications. Learn more at www.audio-technica.com.
source: Frank Doris