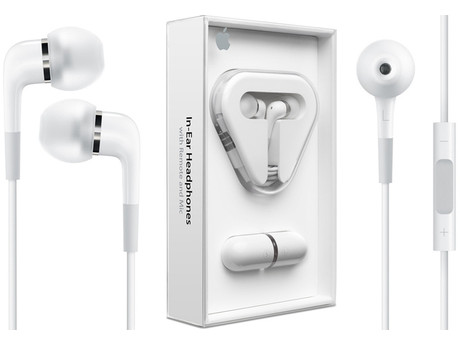 What You Need to Know About The Apple In-Ear $79 Earbud
Apple offers a step up in sound quality with their In Ear earbud heapdhones. Unlike the earbuds that come with your iPod or iPhone, the In Ear is designed different booth on the inside and out. It fits a wider array of ear sizes by offering three plastic fit adjustment sizes. These flexible plastic adapter seal out noise and increase the bass response of the earbud by using trapped air to pressurize the ear. Get the absolute correct fit is key to getting the best bass response possible
Inside the Apple In Ear earbud is better than the standard Apple earbud as well. The woofer and mid range are in one driver while the highs are now dedicated to their own tweeter. This allows for the sound to be divided into two and thus each part of the earbud does less work trying to cover the whole frequency range.
How the Apple In Ear EarBuds Sound -
Users have consistently said the $79 In Ear earbuds are many times better sounding than the earbuds that come standard with their iPod or iPhones. And at $79 one should be able to enjoy the benefits of high fidelity. The Apple In Ear are a great way to get into hifi sound with out spending a huge amount of money.
Listeners say that the bass is deep and clean and the high are solid and not fatiguing. The mid range offers the listener the ability to hear deep into the mix and pick up on sounds they might have never heard before.
Issues -
Many user have said the plastic in ear fitting piece will deteriorate after a year or so – but this happens on many in ear headphones. One can purchase new in ear fit tips or even after market options which might fit your ear better and offer even more sound isolation and a better bass response.
Do you use the Apple In Ear Earbuds?
Let others know how they work for you.
Use the comments below or write a full review using the below links.
More Headphones from Apple >>
Search AudioReview forums for the Apple in-ear Headphones >>
Top Ranked Products from Apple.