Spend some time making noise instead of playing boring flash games at work. A friend and I tweeked out on these Flash proggies for a few hours today. Enjoy…
baasnotes.com post a few days back about this awesome site called lab.andre-michelle.com that has a collection of Adobe Flash based audio and some image programs.  Hook your computer up to some good speakers and waste a couple hours making some fun music.  There are things like a Flash based 909, get your bump tap bump tap on or just irritate your co-workers with 180bmp distorted kicks! The Tonematrix (I personally think is awesome, pictured below) and a bunch of there stuff.
- audioREVIEW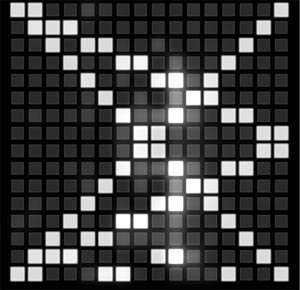 (This is the ToneMatrix from Andre Michelle.  Totally hypnotic)
source: bassnotes.com
Make sure you have the latest Adobe Flash installed. If not get it here at Adobe's site.