Surround sound headphones?  Are these going to save my marriage.  Can my wife now study while I shot bullet holes in everything I see?  Track Scan Vibras Five.One headphones are certified by Microsoft for Xbox and Xbox Live.  You can chat (like your need to hear your mamma jokes in surround sound), you can hear the explotion behind you, in front, off the far left or right.  For $199 these maybe the an awesome X-mas gift and just may save some relationships.   They do look a little ghetto, so they might not sound
-AR
---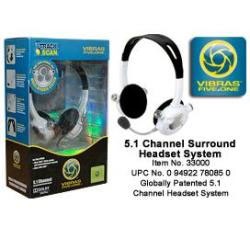 Xbox(R) Gamers Hear It Coming Innovative Headset System Brings High-Definition, 5.1 Channel Surround Sound Experience VIBRAS Five.One from Track Scan(TM) Is Named an Official Xbox 360(R) Accessory by Microsoft
MOORESVILLE, N.C., Dec 16, 2008 /PRNewswire via COMTEX/ — Delivering sound so detailed and powerful that it puts users inside the game, the new VIBRAS Five.One Surround Sound Headset System has received Microsoft's approval as an official Xbox 360 video game and entertainment system accessory.
The VIBRAS Five.One, designed specifically for Xbox 360 and Xbox Live(R), uses Dolby(R) Digital AC3 and special "sound-canal" technology to create a true 5.1 channel surround sound experience. With five individually encoded discrete audio channels pulsating through 10 speakers (five in each ear cup), gamers who use the VIBRAS Five.One enjoy unprecedented sound quality.
"It's awesome!" said Rich Heinz, a professional gamer from Port Jefferson, N.Y. "I can literally hear everything and know exactly where each sound is coming from. The overall sound quality is excellent."
source: MarketWatch.com
---
From
Track-Scan
Licensed and Designed For Xbox 360® & Xbox LIVE®
The 5.1 Channel Surround Sound Headset System with Dolby Digital Technology is designed specifically to work with the Xbox 360 video game and entertainment system. This uniquely designed headset system with sound-canal technology creates a true 5.1 channel surround sound experience. If you choose to play Games, watch DVD Movies, or listen to Music on Xbox LIVE or through the console with your Zune, you will find this to be the Best Performing 5.1 Surround Sound Headset System in the marketplace – The Finest Tonal and Sound Separation available. You will be immersed in Sound as if you were sitting in the Game or Movie Theater.
Xbox LIVE
The system can be used with Xbox LIVE using the professionally designed microphone. You can chat online or while playing a game.
DVD Movies
You can listen in Dolby Digital Surround Sound to your favorite DVD movie using the Xbox 360 DVD game console drive. The Microphone can easily be removed while watching your favorite movie.
Headset Features
10 speakers in total (five speakers in each headset cup)
Lightweight and comfortable for long-time use
5.1 Surround Sound Dolby Digital Technology
Uniquely designed headset with sound-canal technology
Adjustable headband
Replaceable ear pad covers
Microphone Features
Plugs directly into the Xbox 360 game controller
Microphone is easily detachable from the headset
In-line powered Amplifier control box with Volume control and Mute switch
Lightweight and easily adjustable
VOIP applications
System Components Included
5.1 Channel Surround Sound "Headset"
Dolby Digital Technology "Decoder Box"
Detachable "Microphone" with an in-line voice amplifier box
Optical Fiber Cable (9.8 foot length)
AC Power Supply (9.8 foot length)
Headset "Ear Pad Covers" (one replacement set)
Requirements
Xbox 360 video game and entertainment system
Xbox 360 video cable with Optical Port required
Two AAA (not included) – For use with Xbox LIVE