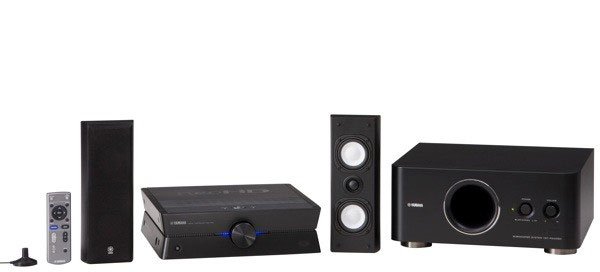 Yamaha is introducing the newHD media controller.  Is it the ease of a Mac in a Home Theater in a Box?  Or maybe it is your grand parents new favorite toy.  Turn on the neoHD and it powers up the TV to display a simple menu of "Watch, Listen, Play". Select "Watch" from there the simple and clean menu promps for "Watch Movie, Watch LiveTV," and so on.  Plus the remote looks rather simple, good button size and to the point.  Yamaha might be getting some AARP props… It does appear though that with the ability to add WiFi, play sources from a laptop, speakers vs room acoustic set up software, and so on and so forth.  The grand kids might still have to set the dang thing up.
BUENA PARK, Calif.––Yamaha Electronics Corporation, the innovator in home theater and digital audio and video reproduction, today ushers in the future of home entertainment with the introduction of neoHD. These sophisticated Media Controllers provide the HD audio and video performance essential to true HD entertainment experiences and total control of all home and Internet components and sources connected to a home AV system. Using a simple remote to drive an intuitive menu-driven on-screen display, neoHD makes it easier than ever before to navigate and access all audio and video content in the home, regardless of where it is stored.
Upon touching the power button of the neoHD remote, the Media Controller and connected TV automatically power up and give the user three onscreen entertainment choices: "Watch," "Listen," or "Play." Next, the user is prompted to choose among more specific activities (such as Watch Movie, Watch LiveTV, Listen CD, etc) at which time icons for the appropriate video, audio or video game components (such as Blu-ray players, CD players, cable boxes, iPods, game consoles, etc.) will appear. Once the component is selected, it automatically powers on and is fully operational via the neoHD remote and on-screen interface. All individual component remotes that normally clutter the room can be kept out of sight in a drawer.
neoHD can control up to six other AV components, such as TVs, Blu-ray disc players and set-top boxes, through its remote control and three IR outputs on the Media Controller's back panel. Remote control codes for the AV components (including TVs, DVD and Blu-ray players, VCRs, set-top boxes, etc.) from most manufacturers are embedded into the neoHD Media Controller for immediate compatibility and control. The codes for components that are not embedded can be quickly learned by the Media Controller.
neoHD is available in a variety of configurations, including neoHD (YMC-500), neoHD WiFi (YMC-700) with WiFi/Ethernet compatibility, and the neoHD System 2.1 (YMC-S21), a complete surround sound and system control solution that matches the YMC-500 Media Controller with two high-quality speakers and a subwoofer.
Both neoHD models feature HD quality audio playback (Dolby TrueHD) and three HDMI inputs for connecting HD AV sources, such as a Blu-ray player, digital set-top box or Apple TV. Also provided are two component video inputs for game consoles and DVRs, such as Tivo, and single composite video inputs for a VCR. The YMC-700′s WiFi compatibility allow it to wirelessly play back content from PCs, laptops and audio files stored on hard drives. Even without the computer powered on, the Rhapsody online music service and Internet radio can be accessed directly from the Internet. YMC-700 can also playback iTunes AAC files via TwonkyMedia Server Software that purchasers have access to via a bundled license key.
Both models also allow connectivity to portable devices, such as USB memory sticks, as well as iPods and Bluetooth-enabled devices (including cell phones, PCs or Macs) via optional accessories (Yamaha YDS-11, MSRP $99.95, and Yamaha YBA-10, MSRP $129.95, respectively).
neoHD employs several proprietary audio technologies. Users can take advantage of Yamaha's popular Cinema DSP programs, such as Movie, Music, Entertainment and All Channel Stereo, to optimize movie, TV and sports viewing experiences in systems with 5.1 speaker configurations. Yamaha's AIR SURROUND XTREME technology adds extra system setup flexibility for a two-speaker stereo configuration, delivering surround sound that clearly separates the audio from in front, behind and either side of the viewer. Yamaha's YPAO Automatic System Calibration quickly optimizes audio performance in any room, regardless of where the speakers are placed.
Adaptive DRC maintains the maximum dynamic range at all volume levels by continuously monitoring audio content and making low-volume sounds easier to hear as music or movies are playing. Yamaha's Compressed Music Enhancer restores the highs and lows that are lost when audio files are digitally compressed, such as with MP3 files, to make them sound fuller and more engaging.
Both neoHD Media Controllers, YMC-700 and YMC-500, are currently available for MRP $799.95 and $599.95, respectively. The neoHD System 2.1, YMC-S21 is also available for MRP $799.95.
source: engadget
The top 10 reviewed products from Yamaha.