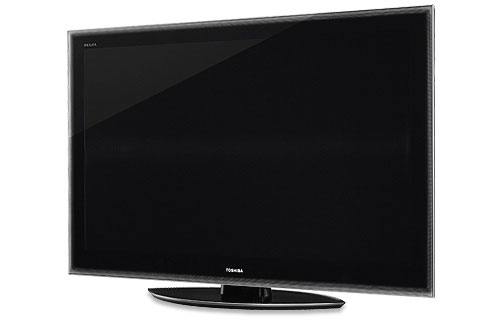 Toshiba REGZA XV648, ZV650 and SV670 Series HDTVs
Toshiba introduces LED TV incorporating FocaLight technology with Local Dimming, and ClearScan 240 motion enhancement, demonstrating best-in-class picture performance
Toshiba America Consumer Products L.L.C. ("Toshiba"), a market leader in LCD TVs, today announced that it is now shipping its premium REGZA® HDTV Series, including the highly acclaimed ZV650 LCD TV, and state-of-the-art SV670 LED TV. These new series combine the most advanced picture technology with stunning designs, creating a highly immersive viewing experience that improves and extends home entertainment in new and exciting ways.
As a leader in technology, Toshiba designed its new REGZA line of premium LCD TVs to elevate the viewing experience to the next level by using its unmatched processing power to create all-new levels of picture quality. In addition, next-generation connectivity and industry-leading cosmetic design were added to create a new REGZA experience.
REGZA models set themselves apart with a litany of cutting-edge picture technology features such as the new FocaLight LED Backlight with Local Dimming for superlative picture contrast, ClearScan 240 motion enhancement with Backlight Scanning for amazing picture clarity with fast-motion video, and the enhanced REGZA Engine with PixelPure 5G 14-bit video processing, Resolution+ super resolution technology, and AutoView histogram controlled automatic picture adjustment.
In addition to picture quality enhancements, these new REGZA series also offer a comprehensive suite of next-generation connectivity features including a USB port, SD card Slot, 4 HDMI inputs with InstaPort and REGZA-LINK, IR Pass-Through Port, and high-resolution PC input.
To ensure that the sound quality is as enjoyable as the picture quality, Toshiba has also included new Dolby Volume sound leveling, and Audyssey EQ. Toshiba is the first TV company to incorporate new Dolby Volume, a technology that solves a real-world problem by utilizing human psycho-acoustic algorithms to ensure a consistent volume level, even during commercials or when changing channels.
"Toshiba LCD TV market share has seen a meteoric rise from just 4.1 percent in November 2007 to 11.4 percent in April 2009,"* said Scott Ramirez, vice president of Marketing at Toshiba. "For 2009, we developed and incorporated a wide range of advanced, robust technologies to create an all-new level of REGZA LCD TV. We didn't just make LED TV; we innovated by utilizing superior Local Dimming. We didn't just utilize higher frame rates; we innovated by adding new Backlight Scanning Technology. We didn't just wrap everything in high-gloss black; we innovated by creating the stunning new Deep Lagoon Design with Infinity Flush Front. The new REGZA is more than our dealers and consumers expected, and the response has been nothing short of amazing."
more details on each model at eCoustics.com…
source: eCoustics