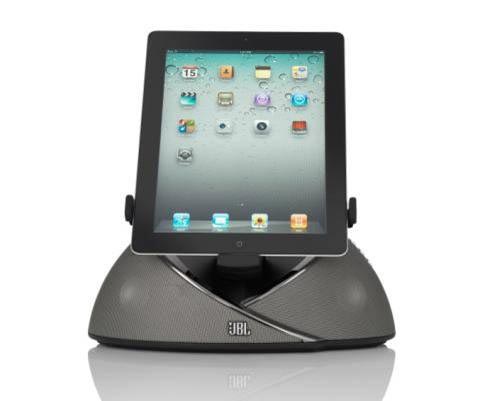 A brand new gadget with incredible sound is now available for all your wireless needs, whether it's for your laptop, iPhone or iPad! The JBL OnBeat Air ($249.95; available now) uses Apple's Airplay wireless technology, so no matter where you are in your home, you can stream music from an iTunes collection or Internet radio station. This versatile music player features digital sound processing equalization with dual Phoenix full-range transducers to produce a room-filling soundscape, and includes an adaptable docking station to fit an iPad, iPhone or iPod in portrait or landscape mode.
The JBL OnBeat Air is more than a wireless music system:
Plays iOS music two ways – stream via Apple's AirPlay or through a 30-pin dock connector
Android™ smartphones, tablets and wireless MP3 players connect via Wi-Fi®/built-in auxiliary input jack
Provides high-quality wireless sound for video chatting, gaming, music and movies
Includes an IR remote control to quickly navigate iTunes songs, playlists and videos
A great videoconference tool via Apple's FaceTime or Skype
Table-top style makes it ideal for any room in the house
Specs
Amplifier Power: 7.5 watts per JBL Phoenix transducer
Weight: 1.9 pounds
Height x Width x Depth: 5-3/4″ x 10-13/16″ x  5-5/16″
In addition, the OnBeat Xtreme - a Bluetooth-enabled powerhouse in the JBL speaker dock family – will be released later this month.