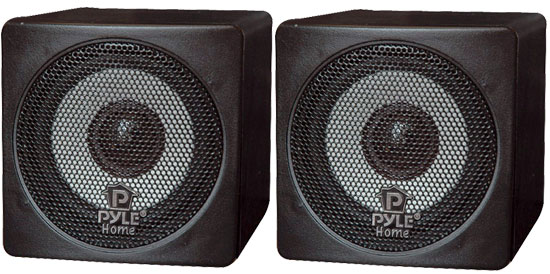 Pyle PCB3BK Speakers – What You Need To Know
Find really small speakers that are anywhere near worthwhile is a very difficult task. Lucky the Pyle PCB3BK (black version) or PCB3WT (white version) come well recommended from Amazon user reviews. Pyle is an audio company that makes a wide array of products. From pro-audio to iPod docks, floorstanding speakers, bookshelfs, CD players to amplifiers. So they have a pretty good idea how to make a descent sounding speaker. But in a 3-inch closed box design that only goes down to 90Hz one will certainly want to match these with a subwoofer. Possibly even sub with a very wide range that doesn't have any sort of cross-over control. One will certainly not get any type of punch, slam, or energizing dynamic hits from these little things. But that doesn't make them worthless.
With an 8 Ohm impedance four of these paired with a sub would make from very good satellite speakers in a surround sound set up. They should pair very well with any budget A/V surround sound receiver/amplifier.
If you are frustrated with the poor quality of sound from your TV these would be a great step up. Though you will need an amplifier/receiver to power them.
The case is made of plastic and a paper 3-inch cone full range driver is inside that creates a clear upper mid range. They will take up to a peak power of 100W. They are video shielded so they can sit very close to your TV or computer with out issue.
What Issues Have Folks Had?
It seems the most pressing issue that some users have had is damage in shipping. Some users have reported static, crackling, or no sound on a newly arrived pair. Another issue is that the Pyle PCB3BK speakers have no mounting holes or brackets. But they should be light weight enough that a good piece of double sided tape will hold them in place.
Do you use the Pyle PCB3BK Speakers?
Let others know how they work for you.
Use the comments below or write a full review using the below links.