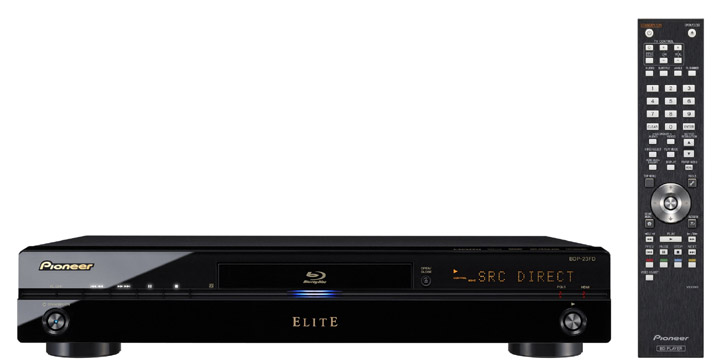 Pioneer Reaches Pinnacle of Video Performance with New Line of Blu-Ray Disc Players Now Available at Retail Stores
Three New Players Give Consumers A Choice in Their HD Entertainment System
LONG BEACH, Calif.–(BUSINESS WIRE)–With consumer interest in the Blu-ray Discâ"¢ format at an all-time high, Pioneer Electronics (USA) Inc. brings a new level of cinematic-quality entertainment to living rooms with three new Blu-ray Disc players now available at retail stores. The Pioneer® Elite® BDP-23FD along with the Pioneer BDP-120 and BDP-320 models are outfitted with advanced audio video processing designed to deliver vibrant colors, detailed pictures and immersive high resolution surround sound allowing owners to differentiate Pioneer's level of high performance well into the future.
Pioneer completes the Blu-ray Disc home theater experience by incorporating expandable and built-in memory options in the new player line allowing owners to immediately enjoy supplemental BD-Liveâ"¢ entertainment from a Blu-ray Disc.
"This new line of Blu-ray Disc players represents a core Pioneer philosophy to introduce robust home theater products and show our unwillingness to deliver anything less than the best in audio and video performances for consumers," said Chris Walker, senior manger of Blu-ray Disc marketing and product planning for Pioneer Electronics (USA) Inc. "With these players we're providing consumers with superior high definition solutions that offer the full power of the Blu-ray format, including BD-Live, by adding substantial memory options so they can easily experience this exciting entertainment right out of the box."
Bringing Dynamic Blu-ray Disc Entertainment to Home Theaters
Pioneer brings to market three models each with a host of video performance advancements and convenient user features at competitive price points introducing a new level of HD entertainment for an array of home theater lifestyles. The new players are proof of the company's continued commitment to replicating the emotional impact a director intended from a film scene or sound engineer created with a musical score.
Developed exclusively to meet the growing needs of custom installers, the Elite BDP-23FD combines Pioneer product synergy with industry-leading integration functionality for seamless control and connectivity in emerging home theaters. With KURO Link Picture Mode and Precision Quartz Lock System Multi (PQLS), entertainment aficionados gain superior imagery and jitter-free playback of soundtracks when the player is used in concert with Pioneer's newest line of A/V receivers and KURO flat panel displays. Leveraging more than 30 years in optical disc advancements, Pioneer engineered the player with professional-grade internal components and durable chassis construction to deliver reliable, high quality playback performance of Blu-ray, DVD and CD discs that is found throughout the new player line. Pioneer's Elite BDP-23FD has a suggested retail price of $599.
Pioneer demonstrates its leadership in video technology innovation with the BDP-320 model featuring 48-bit Deep Color Support, three Video Noise Reduction Circuits and a Picture Control Suite offering 13 image adjustment capabilities that provide consumers a truly customizable viewing experience. The Pioneer BDP-320 carries a suggested retail price of $399.
The entry-level Pioneer BDP-120 unit is the ideal addition for Blu-ray Disc fans looking to add sophisticated HD player performance into other rooms of the house with reliable, high quality playback of Blu-ray, DVD and CD media. The Pioneer BDP-120 has a suggested retail price of $299.
Superior BD-Live Interactivity
Alleviating the consumer need to purchase memory for BD-Live interactive enjoyment, Pioneer incorporates one gigabyte (GB) of internal on-board memory with its top two models, while the entry-level BDP-120 model comes packaged with a Sandisk® 1GB USB flash drive. All three players feature an integrated USB port for use with compatible flash drives and hard disk drives to provide further storage capacity for BD-Live entertainment, thereby easily accommodating many more downloaded movie trailers and other bonus content, synchronized viewing with other players and much more.
Pioneer's new BDP-120, BDP-320 and the Elite BDP-23FD Blu-ray Disc Players are currently available at leading national and regional retailers.
For a full list of Pioneer's Blu-ray Disc players features, please visit www.pioneerelectronics.com.
Pioneer's Home Entertainment and Business Solutions Group develops high definition home theater equipment for discerning entertainment enthusiasts. Its Blu-ray Disc players, A/V receivers and loudspeakers bring a new level of emotion to the HD experience. The company brands include Pioneer and Elite®. When purchased from an authorized retailer, consumers receive a limited warranty for one year with Pioneer products and two years with Pioneer Elite products. More details can be located at www.pioneerelectronics.com.
PIONEER, the PIONEER logo and the ELITE logo are registered trademarks of the Pioneer Corporation.
BLU-RAY DISC and the Blu-ray Disc logo are trademarks of Sony Corporation.
source: businesswire.com