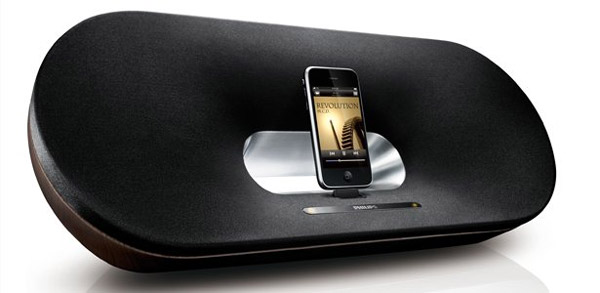 PHILIPS LAUNCHES NEW PHILIPS FIDELIO DOCKING SPEAKER FOR SUPERIOR SOUND QUALITY FROM YOUR iPhone OR iPod
Barcelona, Spain – For those who want precision and purity from their music, the new Philips Fidelio docking speaker lets you get the best quality sound from your iPhone or iPod. You can now enjoy the detailed, refined and high quality sound you want no matter how loud you play your music. The Philips Fidelio docking speaker's architecture enhances sound performance and radiates sound quality, while the premium design will look stylish in your living room, with or without your iPhone or iPod docked.
Time dedicated to downloading your favorite songs is all the more worthwhile as the new Philips docking speaker means you can hear your music exactly as the artist intended, with sound so authentic you can practically feel it. The two-way acoustic system with carefully selected audiophile quality drivers reveals all the nuances of your favorite music, releasing the full fidelity potential of the tracks from your iPhone or iPod
To ensure an excellent level of clarity, the sound design is based on true stereo architecture with isolated acoustic chambers. The generous three liter acoustic volume allocated to each mid-range driver perfectly matches its acoustic requirements, resulting in strong and rich bass. Bass Management technology delivers deep low tones without any distortion even at the highest volumes and advanced PureDigital sound processing offers vastly superior sound performance compared to the conventional analogue audio processing technology.
The clean lines and sensuality of the curved wooden back cover not only look remarkable but also create a more effective structure for acoustics. Curved walls randomize the direction in which sound waves are reflected inside the acoustic chambers. The substantial wall thickness of 12mm and the natural qualities of wood further eliminate vibration and distortion. The result is a natural reproduction of voices and instruments, free from coloration. Not only does the use of wood assist in producing amazing sound, but it's also eco-friendly! The wood used for manufacturing the flagship model comes from sustainably managed forests, a renewable and environmentally friendly resource. The result – ethically sound, elegant-looking speakers and a sensational listening experience. While wood is an integral part of the architecture, Philips will also be introducing different finishing options to give you a wider choice of colors and materials to fit your personal and interior style.
Elegance combined with simplicity and functionality, the Philips Fidelio docking speaker model is the first one-control button audio speaker from Philips. A smartly designed, spring-loaded docking port is integrated into the docking speaker and effortlessly accommodates any iPhone or iPod, without the need for special adaptors. What's more, it works even when most protective cases are on – just dock your iPhone or iPod as it is. Now you can truly have fuss-free enjoyment of your music.
Philips Fidelio docking speaker (DS9000)
Peerless sound quality
• Two-way acoustic system with one midrange driver and one tweeter per channel
• True stereo sound architecture with isolated acoustic chambers delivers excellent level of clarity and details
• Carefully selected audiophile-quality drivers combine ultimate performance with incredible sound accuracy and astonishing details
• Passive crossover design lets you hear every note clearly so your music comes out amazingly pure, natural and complete
• Bass management technology for deep bass without distortion
• PureDigital technology for unsurpassed sound clarity
• Acoustic volume perfectly matches speakers' requirements delivering strong and rich bass
• Thanks to acoustically-tuned air channels located at the back of the acoustic chamber you enjoy fantastic realism and a truly involving listening experience
• Smooth-edged enclosure to limit sound diffraction
• 100W RMS total output power
Exquisite design and finishing
• Premium design is enriched with authentic wood, fabric and metal
• Sensually curved back for elegance and precise sound reproduction
• Design object by itself, speaker looks great with or without iPhone or iPod docked
Advanced intuitive control
• Proximity sensor activates backlit control panel only when needed
• Intuitive remote control compliments design and finishing of the speaker
• Dock any iPhone or iPod, even in its protective case
• Dedicated app available on the App Store for more functions
source: Philips
via: pocket-lint.com
READ more on Philips' site