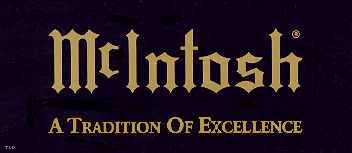 MCINTOSH UNVEILS TWO NEW"EXPERIENCE CENTERS" AT RETAIL LOCATIONS IN CALIFORNIA AND VIRGINIA
– Exclusive McIntosh Experience Centers to Launch at Century Stereo in
San Jose, CA and IQ Home Entertainment in Fairfax, VA –
Binghamton, NY, November 2, 2011 – McIntosh Laboratory, global leader in prestige quality audio for over 60 years, today announced the grand opening of two upscale "Experience Centers" at Century Stereo on Friday, November 4 in San Jose, CA, followed by IQ Home Entertainment in Fairfax, VA on Thursday, November 10. To celebrate, each opening will feature an exclusive in-store concert by an up-and-coming band. Rock band Taddy Porter will take the stage in San Jose, and Nashville pop-rock sensation States will perform in Fairfax. The "Experience Centers" are part of McIntosh's initiative to engage and educate new -audio enthusiasts to a high quality music listening experience.

McIntosh Experience Centers will provide customers with a taste of why discerning listeners and famous musicians have long considered McIntosh to be the "platinum standard" of great sound. McIntosh products will be showcased "live" in an elegant setting that illustrates their power, musicality, style and overall prestige quality. The McIntosh collections on display include the company's acclaimed "MANHATTAN" compact home audio system (MXA60), the"WESTCHESTER," home theater collection featuring the world-class MX150 AV processor, and the"SOHO" collection, a superlative two-channel system solution that combines the acclaimed MT10 turntable with a high performance pre-amplifier and loudspeakers.
McIntosh Global Vice President for Sales & Marketing Linda Passaro noted: "We are delighted that two of our most valued partners, Century Stereo and IQ Home Entertainment, are demonstrating their passion for McIntosh high-quality performance and showcasing our products in a prestige setting. McIntosh initiatives such as this help elevate the listening experience, providing a way for consumers to experience the technical excellence, and emotional connectivity of McIntosh for themselves. With these Experience Centers our retail partners will be able to provide discerning customers a greater understanding of how a powerful, quality music system can enrich their lives, so they can truly live their music."
# # #

About McIntosh Laboratory
Since 1949, McIntosh Laboratory's unwavering commitment to excellence, innovation and quality continues to define the state-of-the-art in high fidelity and provide discriminating consumers around the world an elevated home entertainment experience. McIntosh high-performance audio and video products are handcrafted at the company's Binghamton, New York headquarters. Its products reflect unmatched levels of performance, superlative engineering and hand craftsmanship. Built to last for decades, McIntosh components demand nothing less than an equal level of commitment to customer support and service. McIntosh Laboratory, Inc. is a D&M Holdings company. For more information visit www.mcintoshlabs.com, join us on Facebook: www.facebook.com/mcintoshlabs or follow us on Twitter by searching for McIntoshLabsInc. All product and brand names with a trademark symbol are trademarks or registered trademarks of McIntosh Laboratory, Inc.
DISCLAIMER
Statements in this news release that are not statements of historical fact include forward looking statements regarding future events or the future financial performance of the company. We wish to caution you that such statements are just predictions and that actual events or results may differ materially. Forward looking statements involve a number of risks and uncertainties surrounding competitive and industry conditions, market acceptance for the company's products, risks of litigation, technological changes, developing industry standards and other factors related to the company's businesses. The Company reserves all of its rights.