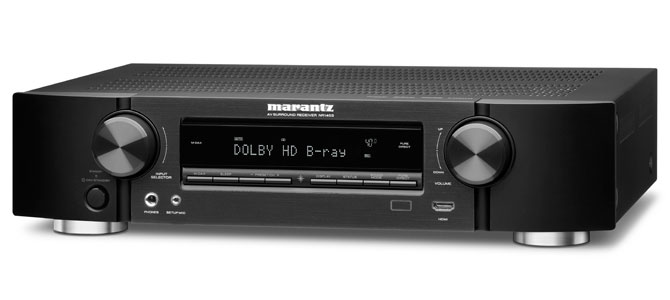 – Maximizing Versatility & Connectivity, New 4" High SlimLine Chassis,
Advanced Network Technologies, Front-Panel Inputs and More –
 
Mahwah, New Jersey, May 9, 2012 – Marantz, a world leader of advanced home entertainment solutions, today introduced the latest additions to its popular SlimLine Series ofaudio/video receivers. The new models include the 7.1-channel NR1603 (SRP: $649.99) and the 5.1-channel NR1403 (SRP: $399.99) both of which are scheduled to ship this spring.
 
Content Is King… and the NR1603 is a Crowning Achievement!
The 7.1-channel NR1603 is a completely integrated home entertainment receiver that not only delivers pristine audio and video quality but also incorporates an array of features that provide simple, common-sense solutions for maximizing all the benefits of today's content-rich consumer market.
Apple's AirPlay® is just one of the exciting features that make the NR1603 an invaluable centerpiece to any audio/video system and to the "connected entertainment space" of a networked home. AirPlay allows users to customize soundtracks for their home by unleashing their iTunes music libraries through a Mac, PC or an iPhone®, iPad® or iPod touch®*. The NR1603 also features a front panel USB input for audio and photo playback from most USB-enabled devices. The same connection supports iPod Digital Direct, for improved sound quality from any iPhone, iPad or iPod.
The NR1603 is also equipped with Marantz's new advanced networking technologies that allow users to access online content such as Internet Radio, Pandora and Sirius-XM**. In addition to these services, thanks to its DLNA 1.5 compliance, users have the option to connect a wide array of DLNA devices for playback through the NR1603. To make the experience intuitive, seamless and straightforward, Marantz's new GUI features an improved design with richer graphics, multi-platform support and an enhanced feature set promoting faster browsing.
Both the NR1603 and NR1403 feature a front panel HDMI input for the quick and easy connection of HDMI-equipped temporary sources such as cameras, camcorders, and even gaming consoles. Both receivers also include the complete suite of Audyssey enhancements, including MultEQ, Dynamic Volume, and Dynamic EQ. The NR1603 features a 1080 i/p video scaler for higher video quality from all sources, a total of 6 HDMI inputs and 1 HDMI output.
Like the NR1603, the NR1403 proves itself to be a robust centerpiece for any home theater setup. Equipped with an all-discrete amplifier section custom tuned by Marantz audio engineers, the NR1403 delivers a superior sonic experience, delivering 50 watts through each of its 5 channels. The front-panel HDMI input allows users to quickly and easily connect camcorders as well as iPhone, iPad, and iPod touch to view photos and video or listen to music. The new Graphical User Interface is superimposed on the video source, and provides ease in making adjustments during program playback. When used in conjunction with the optional RX-101 Bluetooth receiver, the rear panel M-XPort, found on all Marantz AV receivers, facilitates audio playback from Bluetooth-enabled devices. Like all Marantz AV receivers, the NR1403 employs M-DAX2 circuitry for improved sound quality from compressed music sources. With improved ease of system setup, the NR1403 also features an auto power off feature, and a total of 6 HDMI inputs, and 1 HDMI output.

Refined Sound Quality, Robust Feature Set and Capabilities
Housed in their sleek new SlimLine chassis, just 4" high, the new receivers are packed with advanced Marantz technologies for refined sound quality. Marantz's audio heritage is reflected in every aspect of the new SlimLine Series receivers, which deliver a stunning level of musicality, with brilliance in timbre, scale and dynamics. Both the NR1403 andNR1603 are equipped with a full complement of Audyssey audio technologies for immersive, high-quality surround sound. Audyssey MultEQ automatically calibrates and adjusts the loudspeakers to provide optimum sound for the specific acoustics of any listening environment. Thanks to Audyssey Dynamic Volume users can minimize the annoying, unexpected volume changes that can occur within programming and between broadcast channels. Audyssey Dynamic EQ automatically maintains proper tonal balance and surround speaker output at all listening levels.

Key Features in the Marantz NR1603 and NR1403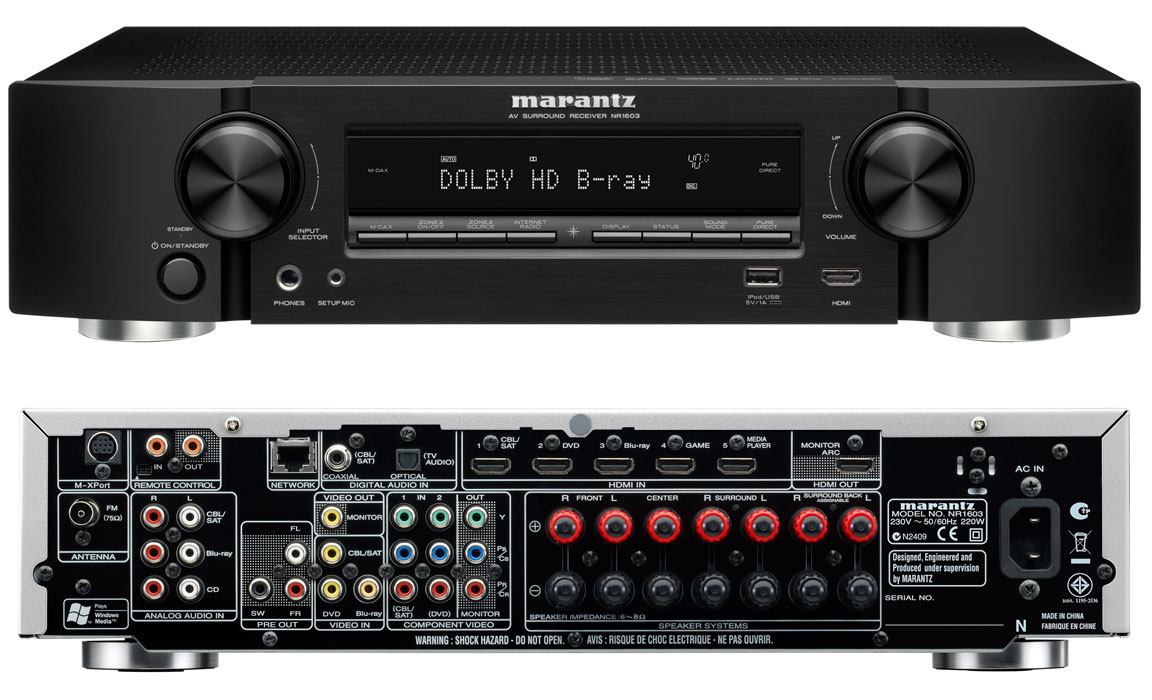 NR1603
7.1-channel, 50 watts per channel. Airplay®, new GUI, Audyssey MultEQ, Dynamic Volume and Dynamic EQ. Ethernet port and DLNA 1.5 compliant, front panel USB and HDMI. Total of 6 HDMI inputs. Multi-zone/multi-source audio, 2 component video inputs/1 output.
NR1403
5.1-channel, 50 watts per channel. Audyssey MultEQ, Dynamic Volume and Dynamic EQ. Front panel HDMI, total of 6 HDMI inputs. M-XPort.
For more information on Marantz, visit http://us.marantz.com. Become a fan of Marantz on Facebook at http://www.facebook.com/marantzamerica or follow Marantz on Twitter athttp://twitter.com/#!/marantzamerica.
 
*AirPlay requires iTunes 10.1 or later and iPhone, iPad, or iPod Touch with iOS4.2 or later. A home Wi-Fi network is required.
**Some services may require a subscription for use.

# # #
About Marantz
Marantz America, LLC is committed to upholding the tradition of technological superiority initiated by founder Saul Marantz. In keeping with this emphasis on quality, Marantz audio and video components are carried only by the nation's premier audio/video specialty retailers. Additional information is available atwww.us.marantz.com and http://www.facebook.com/marantzamerica. Marantz America, LLC is a wholly owned subsidiary of D&M Holdings Inc.
About D&M Holdings Inc.
D&M Holdings Inc. is a global operating company providing worldwide management and distribution platforms for premium consumer, automotive, commercial and professional audio and video businesses including Denon®, Marantz®, McIntosh® Laboratory, Boston Acoustics®, Calrec Audio, Denon DJ, Allen & Heath, D&M Professional and D&M Premium Sound Solutions.  Our technologies improve the quality of any audio and visual experience.  AirPlay, iPhone, iPad, and iPod are registered trademarks of Apple Inc.  All other product and brand names with a trademark symbol are trademarks or registered trademarks of D&M Holdings, Inc. or its subsidiaries.  For more information visit www.dm-holdings.com.
DISCLAIMER
Statements in this news release that are not statements of historical fact include forward looking statements regarding future events or the future financial performance of the company. We wish to caution you that such statements are just predictions and that actual events or results may differ materially. Forward looking statements involve a number of risks and uncertainties surrounding competitive and industry conditions, market acceptance for the company's products, risks of litigation, technological changes, developing industry standards and other factors related to the company's businesses. The Company reserves all of its rights.