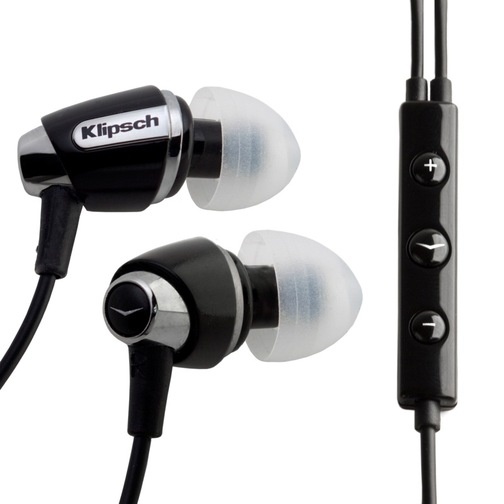 Klipsch Image S4i Earphones – What You Need To Know
The Klipsch Image S4i headphones offer both seamless iPod, iPad, iPhone control and great sounding audio reproduction. The 360 degree highly intelligible in line mic allows for voice control with the "Talking" iPod Shuffle and taking calls with the iPhone. The S4i also uses dual Neodymium magnets in each of the 8.5mm full range KG 25 drivers which increase the power of dynamic swings in the music and make for a clean and fast attacking bass.
The S4i's come with three different sizing options. Getting the correct fit is very important because it will help to increase the isolation performance of the S4i, which in the best conditions can be up to -16dB. The plastic ear tip is also an oval shape which many reviews says is extremely comfortable and natural feeling. The cable is very durable and comes with a clothing clip to keep it in place and help reduce drag strain on the listener's ears.
The only real complaint we've come across as far as design goes is that they cord can make a bit more noise than some users tend to prefer. When working out and moving around the feedback into the earbuds has some users wishing for less.
How Do The Klipsch Image S4i Sound?
Once again these popular iPod headphones are tilted towards the younger and bass centered pop and hip hop generation. Which you either love or hate. But apparently the bass is punchier than the Beats by Dr. Dre and the sound overall has been said to be better than the Beats Control Talk. The mid-range and high end lack presents and are said to come from 'behind a closed door.' One could argue though this is a fit issue. I've personally have had earphones that sound that way when they shift to a poor position in my ear.
Audiophile might want to steer clear but someone looking for bass driven sound should definitely check these out.
Do you use the Klipsch Image S4i Earphones?
Let others know how they work for you.
Use the comments below or write a full review using the below links.
More Headphones from Klipsch >>
Search AudioReview forums for the Klipsch Image S4i >>
Featured Merchants
Popular Headphones