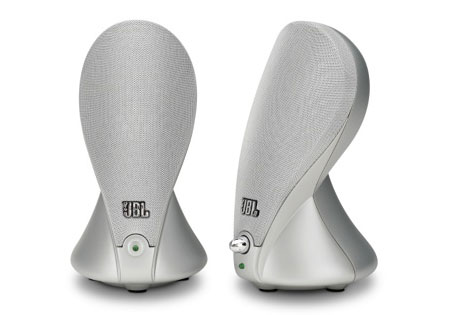 Pros:
Affordable
Good enough sound for the money
Slick design and look good on the desktop
Easy to use, access volume and on/off

Cons:
Lacking bass
Cell phone and other electronic interference
The JBL Duet 2.0 Computer Speakers will meet the needs or most people just looking for inexpensive little speakers to connect to their computers. A good couple steps above the on-board speakers of a laptop but more than that they are not.
Easy to use, a simple volume pot on the front, that some users have had issues with, with a power cable and connecting stereo cable. Very minimal. Not even a headphone jack.
But with 6 watts per channel and JBL's patent-pending Phoenix TSR (Tangential Strain Relief) drivers, these simple computer speakers will deliver more bass and lower distortion than similar-sized computer speakers.
Their one weak spot appears to be iffy shielding. The Duet 2.0 can give a fair amount of feed back if a cell phone is near by or similar wifi/cellular type of devices are near by. But not all users have had issue and it is more likely user set up than inconstant manufacturing.