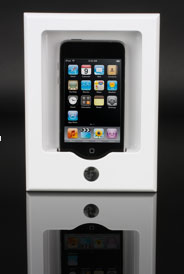 San Clemente, CA—June 2009—iPort®, the company that created a new industry standard for controlling and playing music and video content stored on the popular Apple® iPod®, has introduced a new series of in-wall digital media systems designed to integrate a variety of iPod portable media players*—including the iPod touch®, iPod classic®, and iPod nano®—into whole-house music and video systems. The IW product line now features a variety of improvements and functions consolidated into three new models all of which feature USB charging capability.
The iPort IW line comprises the IW-20, IW-21, and IW-22. Each is designed with a unique feature set and different configurations to accommodate a wide range of installation and system requirements while supporting video output of content downloaded from iTunes, TV shows, music videos and more.
read more details on eCoustics…
Availability: Now shipping
Manufacturer's Suggested Retail Pricing:
IW-20 $200.00/each
IW-21 $400.00/each
IW-22 $800.00/each
Balanced Audio upgrade kit (compatible with the IW-21) $250.00
Balanced Video upgrade kit (compatible with the IW-21 & IW-22) $300.00
Optional black wall plate (compatible with all models) $50.00
Optional IW rack-mount panel (compatible with all models) $80.00
About iPort®
iPort, inventor of the first in-wall music system for the Apple iPod, provides freedom from the constraints of headphones. iPort makes it possible to easily share music and photos through any home stereo or entertainment system. Using innovative technology and unique design iPort is committed to producing products that are stylish, inventive, and as simple to use as the iPod.
iPort is the innovation of Scott Struthers, co-founder of Sonance and developer of the worlds first high fidelity in-wall loudspeaker. He is a founding member of CEDIA and recipient of a CEDIA Lifetime Achievement Award.
iPort is a registered trademark of Dana Innovations
Apple, iPod, iPod touch, iPod classic and iPod nano are registered trademarks of Apple Inc.
source: eCoustics.com