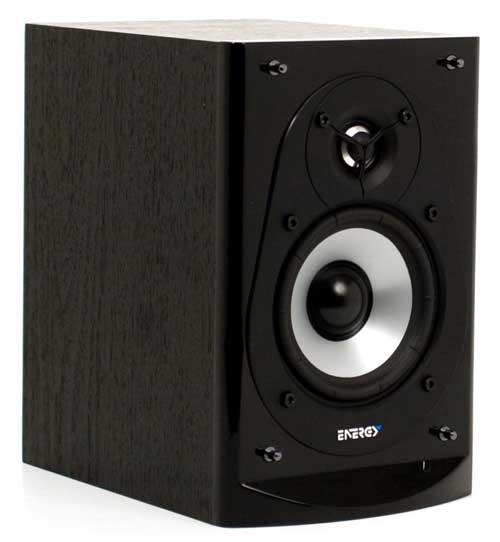 Energy CB-5 Bookshelf Speakers – What You Need To Know
One of the highest rated and well reviewed bookshelf speaker under $200 that are great for both music and home theater.
Wichi isn't surprising when you consider Energy is another manufacturer from the canals of the Canadian studies on psychoacoustics. This means Energy speakers have an on-axis frequency response with wide bandwidth (neutral); wide, constant dispersion(large sweet spot); and low distortion and resonance (no cabinet interference). A very similar philosophy to the Canadian manufacturers Axiom Audio and PSB Audio. Of which all three sound very good, but slightly different.
Pros:
Balanced and open sound.
Pleasing dynamic and punchy mid bass
Large and detailed soundstage.
Superior build quality.
Can be integrated with home theater.

Cons:
Not really a Con – but needs a sub for pop music or action movies.
The Energy CB 5 bookshelf speakers use:
- bass reflex front port vent for more bass
- 4.5-inch Woofer that uses a Ribbed Elliptical Surround suspension design for better dynamics and lower distortion
- 89dB sensitivity so they are pretty easy to drive (think budget home theater receiver system)
- 71Hz – 20kHz so pair with a sub if you want the thumpin
How Do The Energy CB 5 Speakers Sound?
Many people fear that the aluminum tweeter that the CB 5 uses could sound harsh or tinny, but this is not the case. While the highs aren't the most detailed they have a solid, pleasing sound, while still being able to extend. Â The frequency response is very neutral and the speakers stay focused and balanced as the volume is pushed.
The CB 5 sound good across a variety of music genera; jazz, pop, hip hop, metal, and classical.  As well the clear mid-range is great for movie and the CB 5 can easily integrate into your home theater system or even replace your current speakers. Though you'll want to get a sub for deep low end bass, something like the Energy ESW-C8 8-Inch 240 Watt Subwoofer.
More Bookshelf Speakers from Energy Loudspeakers >>
Search AudioReview forums for the Energy Loudspeakers CB-5 >>
Featured Merchants