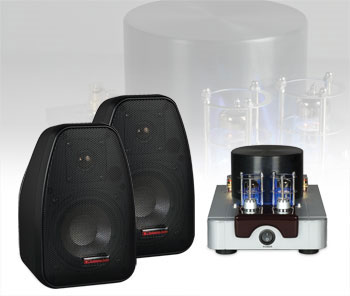 EMP $395 VT-40.2 Tube Hybrid Amplifier & CS100 Bookshelf Speakers
The EMP $595 integrated amp and bookshelf speaker combo has been making waves around home auido world.  The amp is aimed at making MP3s and Streaming music for your desktop sound as good as possible.
Now EMP has lowered the price and is offering a perfect unit for the audiophile college student or someone on a bit more of a budget.  EMP is offering the same Vt-40.2 integrated amp, with tube and cool blue back lights, and now the new CS100 bookshelf speaker.  This will make a perfect gift for a gen-x'er who is showing interest in hi-fi or for your office.
From EMP -
Offered exclusively through EMP Tek by RB Hassing, president of EMP Tek. The CS100 Compact speakers are the perfect answer for "space challenged" rooms. These speakers may be compact in size, but there is nothing compact about their sound. Using a 4-inch aluminum fiberglass matrix woofer and a 1-inch nano-silk dome tweeter, the CS100 provides crystal clear sound for music or home theater. These speakers have been paired with our integrated tube hybrid amplifier for an excellent small compact stereo system. An iPod or MP3 player can be plugged into the amplifier for hours of musical enjoyment. The low distortion characteristics of the speaker combined with the absence of odd order harmonic distortion in the tube amplifier produce a sweet, pure and extremely accurate sound.
This system is even better enhanced by adding the E10s Subwoofer, sold separately.
System consists of:
• (1) Pair of CS100 Bookshelf Speakers
• (1) One VT-40.2 Tube Hybrid Amplifier
- link
source: Daren B. Egan