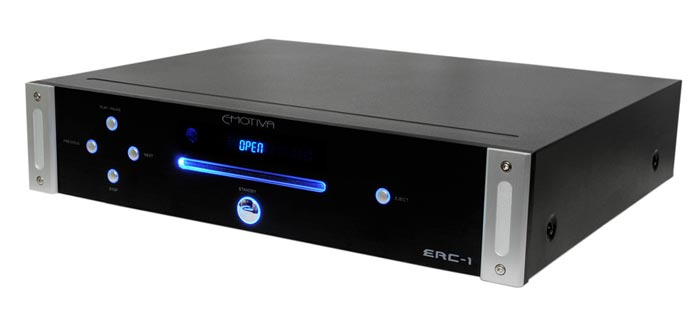 written by: RoadRunner6
My new Emotiva Reference ERC-1 CD player arrived yesterday two weeks after my new Oppo BDP-83 universal player. Emotiva had the ERC-1 out the door and shipped less than three hours after I placed my order. I have been curious to compare the two in standard Redbook CD playback performance. Some think I might be wasting my time because they presume the Emo would sound much better.
I have always been on the skeptical and objective side when it comes to other than speakers and cartridges sounding differently (amps do sound differently when driven to significant distortion or clipping). I have been very impressed with the specs and photos of the ERC-1. I can honestly say I'm not sure if I will hear a difference between the ERC-1 and Oppo 83. My presumption is that there will be either a very slight improvement from the ERC-1 or that I will hear no difference. I don't think it will be a significant difference. (these were my honest thoughts before I started this review)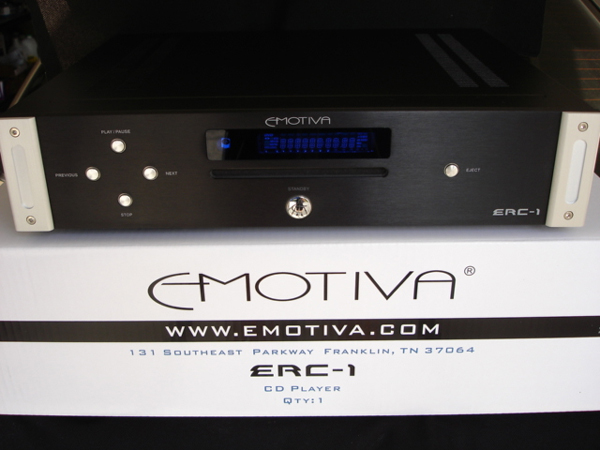 Packing ….. The packing on the ERC-1 is the best I have every seen in an electronics product. Both of the double boxes are extremely thick, heavy and strong. The inner padding was excellent. The packing materials weigh 8 lbs!
Appearance ….. Aesthetics are always subject to personal observations. I think the ERC-1 and remote control are simpling stunning. I could not have designed a more attractive component for my tastes. The ERC-1 is handsome with its brushed satin black finish with silver highlights. The blue lights add the perfect glow. (I always loved the look of McIntosh equipment) The control buttons are the perfect size and color.
Build Quality ….. This is simply one well built machine. Every thing about this player sings high quality from the heavy outside panels, the front and rear controls and connections, to the inner circuitry. It appears to be constructed of top quality parts throughout. This is a very hefty player.
Functionality ….. I was very pleased with the organized and clearly written owner's manual.
The operation of the front panel controls are simple and precise. I found the display prompts just a little confusing at first. From turn on to loading a disk you see, …..EMOTIVA…..LOADING…..NO DISC…..READY…… Without reading the manual first I might have been tempted to try to load the disc when I saw LOADING instead of waiting for Ready. I feel maybe [i]…..EMOTIVA…..WHUS UP BRO?…..WAIT…..NO DISC…..LOAD…..[i] might have been more clear. The back panel is perfectly designed and includes balanced outputs.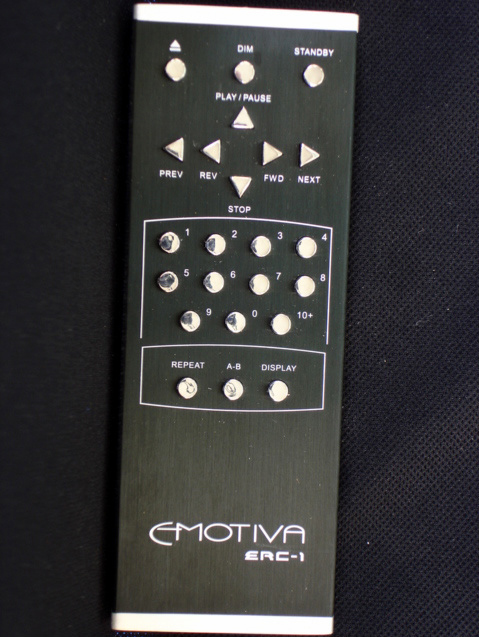 Loading a disc is a little different than the only other slot loading player I have used which is in my car. If you look carefully with a flash light there are two micro leprechauns inside that actually do the loading. The load slot is covered with a felt like cover with a slit in the middle. You can her this as you begin to slide the disc in. When the disc is in several inches the leprechauns grab it and load the disc. After several loads I became very comfortable with the process.
Remote Control ….. The remote control looks like a piece of metal art work you might see displayed in the Louvre. It is the classiest looking remote I have ever laid eyes on. It appears to be made from a very heavy (it weighs a ton!) and satin brushed aluminum with shiny silver buttons. Control operation is very precise. I found the buttons slightly small for my hands and would have preferred the buttons were the same satin appearance as the end caps.
Pre-Test, Comparison and Conclusions on Page 2
---
www.emotiva.com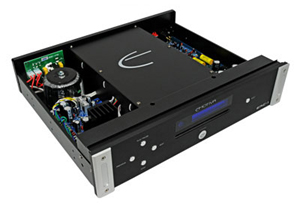 Specs:
Output voltage: 1V rms (7V peak)
• Channel separation: ≥95dB – ref. 1kHz
• Frequency response:
20Hz~20kHz (+0/-0.1dB)
• S/N: ≥100dB (A weighted)
• THD: ≤0.01% 0dB 1KHz)
• Playback formats: Red book CD, HDCD, MP3
• Digital Output Filter: 24-Bit, 384 times oversampling  (Analog Devices 1955)
• Sampling Frequency: 44.1 kHz
• Analog output filter frequency: 80 kHz (-3dB)
• Amplitude output linearity: 0.2dB
• Phase linearity: 30°
• Power consumption: ≤ 25W
• Output connection types: digital coaxial, digital optical toslink, unbalanced RCA, balanced XLR
• Weight: 17.5 lbs. (unboxed)
• Width: 17 inches
• Depth: 14 inches (including RCA jack extension)
• Height: 3.75 inches (faceplate only) – 4.25 inches including feet
• Feet are recessed 2.25 inches from face of unit, and .5 inches from back of unit
Price: $399

The top 5 reviewed products from Emotiva.