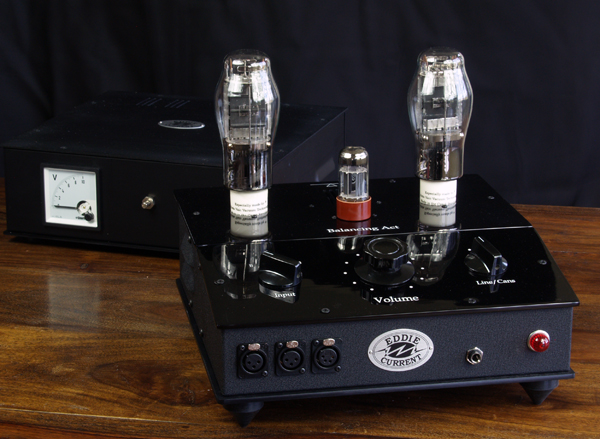 (December 21, 2010—Calabasas, CA FOR IMMEDIATE RELEASE) Eddie Current, LLC, a high-end audio company specializing in hand-crafted gear introduces the production run of the Balancing Act, a line/ headphone vacuum tube amplifier featuring line level balanced/unbalanced input, and balanced unbalanced output including balanced, or unbalanced headphone drive. The Balancing Act brings a new level of listening luxury to high-end audio and drives all headphones including the new planar headphones. Features of the Balancing Act are lustrous polished top, laser-etched nomenclature, and retro Davies control knob.
Specifications:
–Partial silver output transformers
–Yamamoto combo sockets that can run both 300B/ PX-4 output tubes
–Quiet power supply
–High frequency AC with isolation transformers for the directly heated triode filaments
–Meter with voltage adjustment for output tube heaters
The amplifier comes with:
–EH platinum matched 300B output tubes
–Russian made Tung Sol 6SN7
–Jan 6X4 rectifier tubes
–Yamamoto Teflon octal, and UX4/BX4 combo sockets with gold plated pins
–Power can be 100V, 120V, 220V, 240V 50/60Hz
Retail: $3950.
The Balancing Act joins Eddie Current's line of distinct and artfully-designed audio gear with signature sound vacuum tube technology designed by Craig Uthus. Eddie Current is an Internet-based, affordable line of high-end vacuum tube audio equipment. Product line includes head phone/ line amplifiers, power amplifiers and speaker components. For more information, visit www.eddiecurrent.com. For reviews or an opportunity to listen to the Balancing Act and other Eddie Current products, contact Craig Uthus at cuthus@charter.net or (818) 224-3782. Eddie Current, LLC, 23658 Clover Trail, Calabasas, CA 91302 P (818) 224-3782 www.eddiecurrent.com
source: