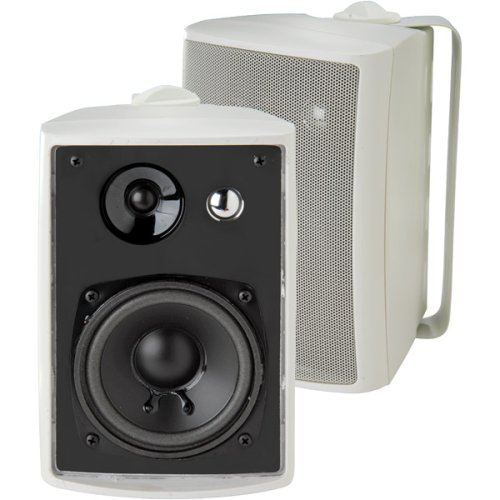 Dual LU43P Speakers – What You Need To Know
Pros:
Good deal if you are on a budget.
Sound better than you'd think for the price – but aren't as good as Polk/Bose outdoor speakers.
Easy to install and last in rough element conditions.

Cons:
Lack bass and sound quality as a whole is lacking as the volume goes up.
If you on a budget and looking for some good looking out door speakers for some light back ground music while sipping Mimosas on a warm Sunday morning, these are them.
The Dual LU43P speakers come with everything you'll need to mount and speakers to your home. But you'll need some speaker cable and a source component to get the sound there. These are old school, no wireless gadgets found here. And that is why they cost so little.
The casing is UV treated so it won't wilt in the sunlight.
The 4-inch polypropylene with rubber woofer is paired with a 1-inch polypropylene cone mid-range cone and 20mm piezo dome tweeter. The LU43P model can handle up to 100W of peak power and produce 100Hz – 20kHz. So mounting them on a wall as opposed to a post will help increase the perceived bass response.
If you are interested in more bass than you should check out the two larger versions in the LU line. The LU53P has a 5.25-inch woofer and goes down to 70Hz and the LU63P with a 6.5-inch woofer than goes to 60Hz.
Do you use the Dual LU43P Speakers?
Let others know how they work for you.
Use the comments below or write a full review using the below links.