MSRP:

$ 650.00

Description: The ASW610 subwoofer presents a very happy medium between the more diminutive ASW608 and the all-out power of the ASW610XP. Its long-throw 250mm driver allows the ASW610 to move the large volumes of air needed for high-quality low-frequency output, and its audiophile-standard 200W Class D amplifier keeps the compact unit running cool, even when the music or movie action is whipping up a storm.In all of the 600 Series subwoofers, the bass driver diaphragms are constructed from a rugged, finely-tuned mix of paper pulp, Kevlar® fibres and resin, which provides the stiffness needed to withstand the tremendous physical forces exerted by the voice coil and pressures inside the cabinet.

Active closed-box subwoofer system
Drive unit ø250mm (10 in) paper/Kevlar® cone long-throw
Frequency range -6dB at 20Hz and 25/140Hz adjustable (EQ at A)
Frequency response ±3dB 27Hz – 40/140Hz adjustable (EQ at A)
Bass Extension -6dB at 20Hz (position A) | -6dB at 25Hz (position B) | -6dB at 30Hz (position C)
Amplifier Power output: 200W

1 Reviews
3 Quick Ratings
4.00 of 5

More Subwoofers from B&W >>
Search AudioReview forums for the B&W ASW610 >>
Reviewed by: McStyvie (Audio Enthusiast)
Review Date January 30, 2010
Overall Rating
5 of 5
Value Rating
5 of 5
Used product for 3 Months to 1 year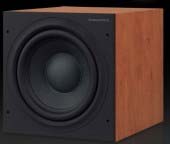 I have this subwoofer in combination with my Denon 2309 receiver, 2x 683′s up front and 3x 685 bookshelf speakers. I have it set up in a 300 SQ foot family room. I didn't want it at first and looked at other brands to purchase, but unfortunately, here in Germany, we don't get the HSU, etc. brands which are all the rage. They can be had, but the price here takes them out of the running. The B&W dealer told me I should just take it home and test it, and if I like it he would give it to me for 400 dollars, which was 20% off at the time and put it in the price range for other comparable subs.
The SW has been an excellent addition to my home cinema which doubles as HI-FI. The bass is rich, clear, not boomy, and the sub keeps up with all types of music, from classical, to metallica (kill 'em all, And Justice for All which are bass drum heavy just sound aweseome on the sub), to jazz, and everything in between. For bass heavy films like WotW, or the Incredible Hulk, the SW just rocks. You don't feel that a sub is making the bass, it just fills the room and you feel like you are riding the bass instead. I can't begin to describe how happy I am with it. I accepted it on the spot and have used it for 9 months now and have absolutely no complaints.
I have it only turned up half way due to the proximity of neighbors, and it will still bring the house down. For a 300SQ foot room, it is very sufficient and could even power much more. For those who enjoy fine music, and enjoy watching films at neighbor friendly levels or even at levels which will bring them knocking, this sub is going to fulfill your wishes completely. I just can't imagine wanting or even possibly getting a cleaner bass for the money. B&W have a fine SW here for the money, and while maybe not on the same level as HSU or some of the other USA brands, it is among the best from the big manufacturers in my opinion and well worth the money paid for it.
---
Popular Subwoofers
AudioREVIEW works best with your help. Write a review for others.  It might be a highlight!