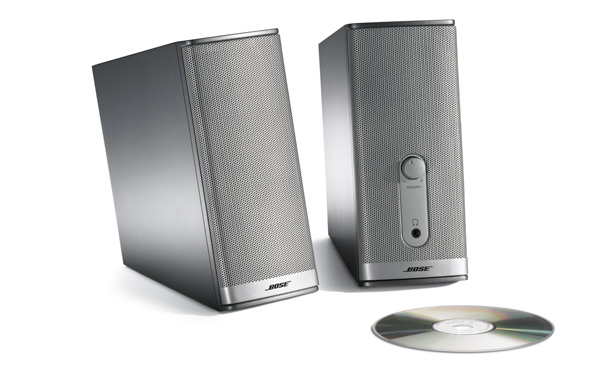 Bose Companion 2 Series II – What You Need To Know
Pros:
Bose® proprietary TrueSpace increases the size of sound stage and audios 3D spacing.
Automatic tonal balance adjustments keep the music from being harsh and straining as volume increases.
2 input jacks allows for two audio sources to play at once.
Rear ports help to increase bass response.

Cons:
Automatic tonal balance adjustment isn't audiophile – and can be bass heavy at low volumes.
Speakers can have a grounding issue – will hum if left on while computer or source is off.
Tall and slim, angled perfectly for your ears, the Companion 2 Series II from Bose are worth checking out if you are sick of computer speakers that have no ability to produce a decent stage.
With a convenietly placed headphone jack and volume control, the Companion 2 Series II also has two inputs on the back to multiple sources.
The sound is big and rich.  Bass can be a overbearing at lower levels.  But this can of course depend on placement near the rear wall.  The biggest feature of these computer speakers is the TrueSpace sound.  And while it isn't true space in audiophile terms, it is a lot more enveloping than starting computer speakers.
Music and movies sound good and one can listen for a lot time with experiencing fatigue.
Do you use the Bose Companion 2 Series II Speakers?
Let others know how they work for you.
Use the comments below.
More Computer Speaker Systems from Bose >>
Search AudioReview forums for the Bose Companion 2 2 Speakers >>