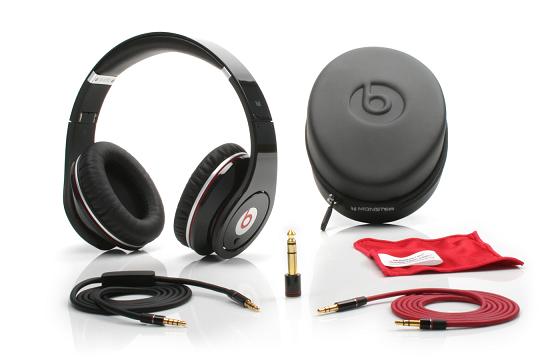 Dr. Dre Studio Beats Headphones – What You Need To Know
Pros:
Deep Bass
Super Stylish
Noise Cancellation works very well
Comfortable
Easy for travel

Cons:
Sloppy soundstage
Hidden highs
Iffy build quality
No batteries no sound
Beats by Dr. Dre Studio Headphones might be as ubiquitous at this point as iPods. One sees their red cables dangling from draped dark hoodies to the clean cut suit commuting to the office. With over 250 four and five star reviews on Amazon and 4/5 rating at the Apple Store with 142 consumer reviews it is hard to imagine there being a more widely liked headphone.
The Studio Beats by Dr. Dre are battery operated noise cancellation headphones. Monster uses a power isolation technology with active amplifiers in the headphone to cut all outside noise and give you only the goods. The Studio's do a great job of cancelling airplane and other low frequency rumbling noises and are some of the best isolating earphones for commuter travel on public transportation.
Plug them into your iPhone (the most likely culprit of the muddy mids some folks report hearing) and you get instant access to your phone controls and track selection with the Monster iSoniTalkâ"¢. The Studio's also keep your ear health in mind with integration of iTune's Sound Check feature so your music plays at a constant level. Getting your hearing shot out by an errant MP3 is not only a bummer but a pretty sad fate for your ears. "How'd you loose your hearing?" – "A drive by MP3." You see my point?
How do the Studio's Sound
Many folks love the sound of the Studio Beats. Some others have pointed out that the mid-range can smear and the highs are a bit dim. A fair portion of this could be the source being used. iTunes and iPad/iPhone/iPods do have a muddy mid-range. That is one thing that Pure Music and Amara clean up. But no one can say these suckers don't have bass. Big booming bass that keeps your head bobbing all night long.
Some users have had issues with the build quality of this particular set of cans but most report a good repair turn around from Monster. But remember – these are kidding toys or for the fat fingered. High end headphones should be treated with respect. Complaining that they broke when you took a digger on your snow board is very fair.
Featured Merchants