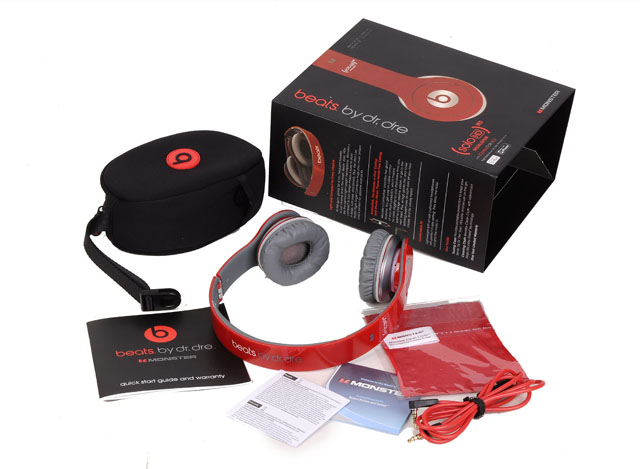 Beats by Dr. Dre Solo Headphones – What You Need To Know
You can't say Beats without saying style. Dr. Dre and Monster cable have done something only Bose has been able to do, cross the great barrier divide between decent audio reproduction and life style.
The Solo HD headphones use a proprietary driver technology that delivers detail and powerful bass with a smooth top end that is easy to listen to for hours on end. Purchasing the Red Special Edition version of the Solo HD headphones and some of the profits will be donated to Global Fund to fight AIDS in Africa.
The Solo HD's don't fully engulf your an average adults sized ears. The cans rest on your ears. And while many reviewers say this is comfortable it can get a bit much after a couple of hours.
The headphones are light and fold up – so they are easily portable. ControlTalk allows you to easily control your audio play back on an iPod and allows for hand-free calling with your iPhone. The awesome thing about the Beats by Dr. Dre is that most of the cables are detachable. So while the headphones come with Monster cable made 1/8th-inch to 1/8th-inch headphone cables you can switch out to another company, say the Supra audio cables. This can help tame the bass and increase the sparkle and mid range clarity. Though the cable that does come with the Solo HD's uses a right angle adapter which sits very flush with your audio device.
The Solo HD's are easily driven by any MP3 or phone, including the iPod, iPhone and iPad.
Construction quality has been an issue with a lot of users. It appears the ear pieces can fall off but it really just depends on how rough you are with them. I've have personally broken every pair of headphones I've ever owned except for a pair of iMetal iM-590 which use a cloth around the cable and are very well built.
How Do The Solo HD Headphones Sound
Bass is certainly the focus of these headphones but with the Solo HD's it is less so than with the Studio or Pro version of the Beats. From my own experience with Beats headphones the bass is thick, deep and slow. Those looking for accurate sound reproduction would do well to seek bliss else where. The high end tends to be rolled off which is easier to listen to for a longer period of time but also looses some of the sparkle and chime.
One either loves or hates the sound from these headphones. If you listen to hip hop or pop these will certainly be more fun than equally priced headphones that are more analytical and articulately more accurate.
Do you use the Beats by Dr. Dre Solo HD headphones?
Let others know how they have worked for you.
Use the comments below or write a full review using the below links.
More Headphones from Monster Cable >>
Search AudioReview forums for the Monster Cable Beats Solo HD Special Edition >>
Featured Merchants
Popular Headphones on AudioReview