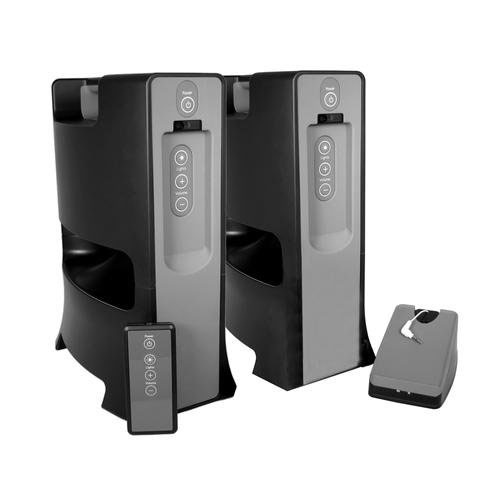 Pros:
Good Sound
Light weight
Mild Blue Mood lighting
Good signal distance and strength

Cons:
Can interfere with WiFi
Base should allow up to 6 speakers – but sometimes doesn't
Can't power on from remote
No Tone Controls
Will go into power save too quickly if no signal
The Audio Unlimited SPK-24GC-Duo wireless indoor/outdoor speakers are a mixed bag of good sound quality and functionality with some not so well thought out features.  First off, with Wireless speakers we are speaking good quality a large cheviot.  Very few wirless speakers will sound as good as hardwired at equal price points. But the SPK-24GC-Duo do at least sound good if you aren't doing critical listening.  Good solid bass response with rich mid tones and a high end that isn't fatiguing.  Though a high end that at low volumes isn't very crisp.  Push to their limit the SPK-24GC-Duo do stay together, coherent, and don't distort.
But the flip side to these positives are many reports of WiFi interference, issues with connecting more than 2 speakers to a single base unit, and too quick to go into power save mode if there is no signal. Â Which means you can't use these as an alarm clock because they will turn off after several minutes of no signal. Even when plugged into the wall, they act like they are still running off battery power. Â Conservation is nice, some things could have been better thought out.
But if you are willing to live with some of these idiosyncratic issues you'll have a good sounding wireless speakers that are easily transported around the house or out into the garden.  Will work perfect for summer BBQ days and can even stand a little bit of foul weather. If you can pick these up at a sales price you'll most likely be very satisfied with your purchase.