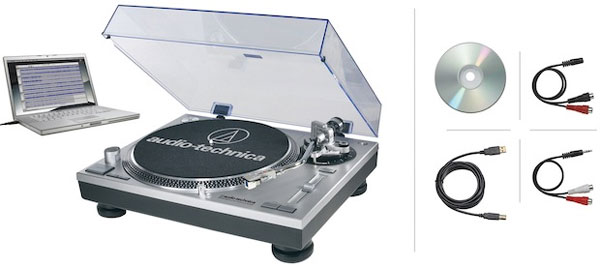 Audio-Technica's top-of-the-line turntable and software package offers easy USB computer connectivity, PC and Mac compatibility and a host of high-performance features
Audio-Technica today announced the introduction of its AT-LP120-USB Direct-Drive Turntable System, a professional-quality USB turntable and software package. The new top-of-the-line AT-LP120-USB is rugged and durable to meet the demands of professional use, and provides consumers with the flexibility to enjoy top-quality vinyl playback and easily transfer records to digital media files and CDs.
The AT-LP120-USB includes a direct-drive turntable and phono cartridge, PC- and Mac®-compatible software, a USB cable and other accessories.
Crystal Griffith, Audio-Technica Consumer Marketing Manager, pointed out: "Over the past few years, vinyl has been enjoying a remarkable resurgence among music lovers of all ages. With the continuing popularity of enjoying records and dubbing them to digital media, we recognized the time was right to introduce a true high-performance USB turntable system that combines exceptional record playback performance and sound quality with total ease of use."
find out more info on eCoustics.com…
source: eCoustics.com