Featured Article from

Reviewer: Constantine Soo
Just like all human endeavors, the audio hobby is a mental state and a psychological affair. I have always wondered if I would be a happier person were I to have remained single with a bare living room but a killer sound system and all the time in the world to listen to music through it. And without commenting on the various situations in which I wished I had remained single, and the rampant thought that all married men will contemplate sooner or later, I've always fathomed the degree of change one would have on the perception of his world when he became enfolded into the bubble of happiness that is music envelopment days in and out. That is until you walk out the door and see this lovely woman you have been missing, and the state of mind changes and you want a companion. Suddenly, everything you have is in her way.
Life is truly short, so if there is a way we can intensify our music listening experience when we are allowed time to do so, wouldn't it be wonderful? Dear readers, I have discovered the conduit to music nirvana like I have never experienced, and it started with a singularity of sorts in the world scene of high-end audio establishment. This singularity occurred in the form of a new company called Ypsilon Electronics, whose principals and their U.S. Importer are packing its U.S. introduction with such wallop it can only be described as "grand". YE was given life in 1995 by Ypsilon Live S.A., its parent company and a concert organizer in Greece. According to the YLSA website, "Ypsilon Live S.A. was founded by five young people, who were actively involved for more than 10 years in the Greek market as professional sound engineers, or lighting and sound technicians."
Two of the five young founding principals of YLSA, Demetris Backlavas the designer, and Andy Hassapis the business brain, became the two pillars in creating the Ypsilon Electronics, an independent operation from the parent company. Their goal was to "create products that communicate to the listener the true meaning of music – emotion." Underwritten by the comparatively infinite resources of the parent company, YE launched a line of electronics dubbed the "100 series". Aaudio Imports, Ypsilon Electronics' U.S. Importer, promptly brought in the entire line of products:
· the $25,000 CDT 100 CD transport/player;
· the $29,000 DAC 100 Stereo Valve D/A Converter;
· the $25,000 VPS 100 Valve Phono Stage;
· the $36,000 PST 100 Stereo Preamplifier;
· the $25,000 PST 100 TA Transformer Attenuator Preamp;
· the $90,000-per-pair SET 100 MKII hybrid monoblock amplifiers;
· the $54,000 SET 100 VS Dual Mono Valve Stereo Amplifier;
· the $3,600 BC 1 Balanced Converter Transformers;
· the $2,700 MC10/MC16/MC20 Moving Coil Step Up Transformers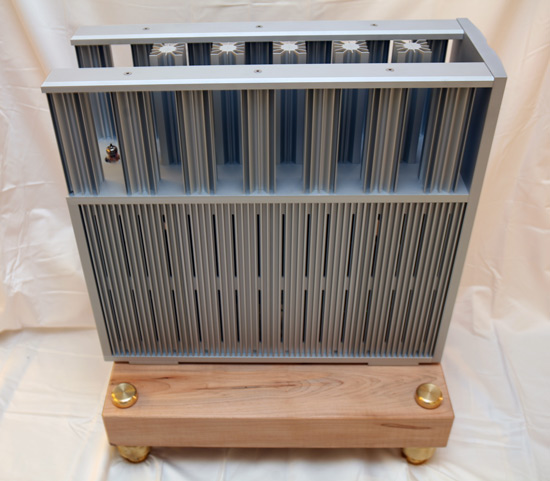 The $90,000-the-pair SET 100 hybrid monoblock amplifiers are the source of my musical ecstasy. It makes use of an NOS 5842 type high-gain single triode input stage with tube rectification, a single-ended MOSFET output stage facilitated by 16 matched (2% tolerance) parallel MOSFETs operating in class A with constant bias, thereby effectuating a 2-stage single-ended triode output topology. Oversized power supply chokes with a bandwidth of 5 to 1MHz (-3dB) are used on both gain stages for the DC load, therefore effectively negating any active device in signal path. The tube stage is directly coupled to the output MOSFETs.
The Ypsilon SET 100 is also unique in utilizing 6 transformers for the various critical functions. According to Ypsilon, the in-house designed and manufactured 1.2KVA power supply transformer was given an M6-grain oriented core material used normally by output transformers, so as to realize the lowest level in EMI. Twenty 4,700µf high-temperature capacitors are employed to eradicate power supply output ripples. Then, a choke-complimented power supply is allocated just for the input tube, plus a signal transformer at the input stage and a 66lb transformer of proprietary amorphous double C-core for the output stage.
A Word from Ypsilon (www.ypsilonelectronics.com)

SET 100 is a SE hybrid amplifier of 2 gain stages, output power of 120 Wrms with low enough output impedance.(0,5 Ohm).
It has the magic midrange of a small S.E.T amplifier with the scale, authority, macro and micro detail, that no amplifier has ever achieved until now.
It uses a specially designed s-e mosfet output stage. SET 100 has power and drive with transparency, musical involvement and above all with music sounding naturally.
With only 2 gain stages in the signal path, the level of immediacy, transparency is unequaled by designs using more than 2 gain stages.
Having no overall feedback, the distortion is kept comparably low while the output impedance is sufficient enough to drive real world loudspeakers.
The first stage is a high transconductance triode selected for its sonic capabilities and reliability. It is powered by a separate power supply with tube rectification and choke regulation.
SET 100 is an amplifier that produces music in its true natural scale, but above all it brings you as close as possible to the music event, to feel the music rather than hear it, to be touched and overwhelmed by the deeper feeling, with music emerging and not only sounding in a clear undistorted way.Compared with conventional amplifiers it is more direct sounding, musical, with more instrument body , lower frequency extension, frightening dynamics and most of all magically three dimensional.
Its strong point is that in large orchestra crescendos it sounds transparent and totally unstressed until it reaches full power.
In the MKII version several upgrades have been made .The input stage tube now used is the NOS 5842 type which is a high gain single triode. The copper foil paper in oil interstage capacitor has been removed and also the first and second output stage is now direct coupled through a sophisticated and simple technique. The bias of the output stage has been changed and now is done from the first stage. Also a bigger and lower noise power supply transformer has been developed and is now lying behind the casing of the SET-100.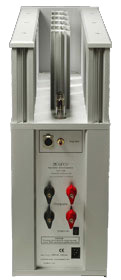 SPECIFICATIONS SET-100 amplifier
OUTPUT POWER BEFORE CLIPPING 120W rms @ 8 ohm 130W rms @ 5,6 ohm 100W rms @4 ohm
BANDWIDTH 5Hz -80Khz -3db
OUTPUT RESISTANCE 0,5 ohm
INPUT RESISTANCE 100 Kohm
GAIN X40 (32db)
POWER CONSUMPTION 400W constantly
DIMENSIONS 240x610x672 (W x H x D)mm
WEIGHT 90 Kgr
About Dagogo.com
DAGOGO (pronounced "dah-go-go") is a U.S. high-end audio review monthly e-magazine established since November 2003. Its mission is to present both a macroscopic and microscopic view of the high-end audio hobby to its readers. Its contents include critical commentaries, industry personality interviews, specialty show coverages and music reviews. New articles are published on the 1st and 16th of every month. www.dagogo.com