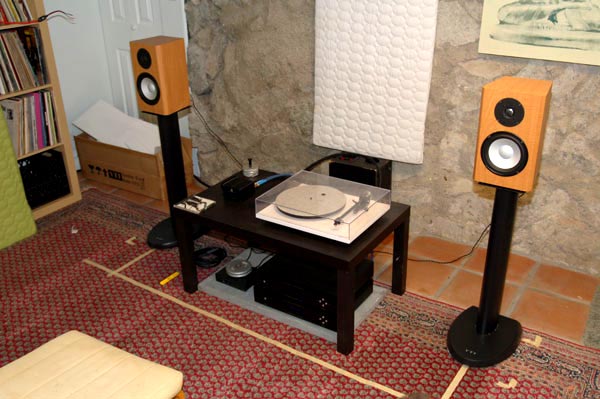 Let's face it.  Who really wants to spend $500-$2000 on speaker stands?  I mean, all you need is a base with easy to adjust feet (if you don't have a perfectly flat floor), an inert column that doesn't radiate vibration sound waves, a good solid platform to put the speaker atop, and something that puts the tweeters at ear level in your listening seat.  It shouldn't cost an arm and a leg.  One shouldn't have to buy $500 stands for $500 speakers. Hell a concern block would be good enough if the wife would let you have that in the living room.
Granted some speaker stands are works of art in and of themselves. Â And that is fine if you can afford it. Â But most folks who are going to by a monitor speaker for less than $500 don't want to pay another $500 for the stands.
I've spent the last year hunting at yard sales, furniture stores, Wal-Mart, Best Buy, and anywhere really that I could, to find a pair of stands, or something to be used as stands, that wouldn't cost me more than $40.   And I have to admit, I couldn't find a single thing.  Nothing.  Nothing at Best Buy, nothing at any big box store, no garage sale could I find a pair of matching things that would work as a stand.  Nothing.  Maybe just my bad luck.  But I doubt it.  I live in the Inland Empire of southern California, yard sales are as popular as the ridiculously raised monster trucks with Fox Shox and off road wheels.   They are everywhere, and you can find nearly anything.  Except speaker stands. One starts to wonder if people really listen to music at home any longer?
So what to do, where to go? Â There are online options sure, but how good are they? Â Well here is the VSP monitor speaker stand from VPIÂ Manufacturing. Â The VSP is the top of their line, it comes in 24″ and 29″ versions. Â If you have smaller monitors the 29″ would probably do you right, larger monitors and you'll want to go 24″. Â And quickly searching shopping.google.com you can pick up a set, either in silver or black, for any where from $90-$200 bucks. Â Are they worth it? Yes.
The base is made of cast iron. Â It is freaking heavy. Â Powered coated in either black or gray to match the hollow aluminum and sand or shot fillable pillar, and steal top plate.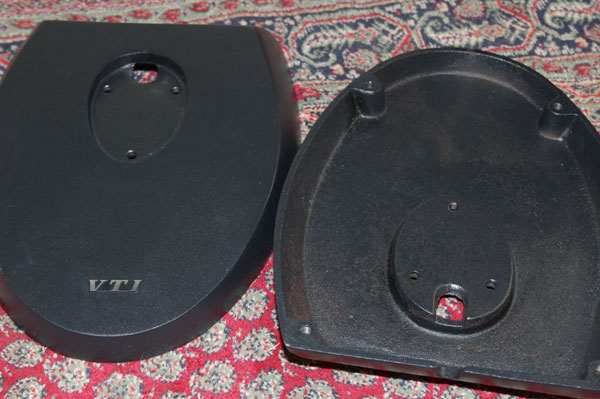 Construction is very easy.  All the screws fit in to place correctly.  The overall  manufacturing on the pair I got is good but not perfect.  One foot spike placement wasn't created as deep as all the others.  So that spike's fully reduced position is higher than all the other.  Which means, if you didn't want to take the spike out and reduce the thread length with a file and some elbow grease, to even out the feet for a starting position, all screws would be a bit higher in position. And adjustments would thus be more limited.  But like I said, put the spike in a vice, file it down some, and you are good to go.  The manufacturing is done in China, and VTI is aware that sometimes there are quality control issues.  I'm sure if you called them up and asked for a replacement of anything that isn't correctly made they would be happy to help.  As long as you yourself didn't cross thread anything in construction.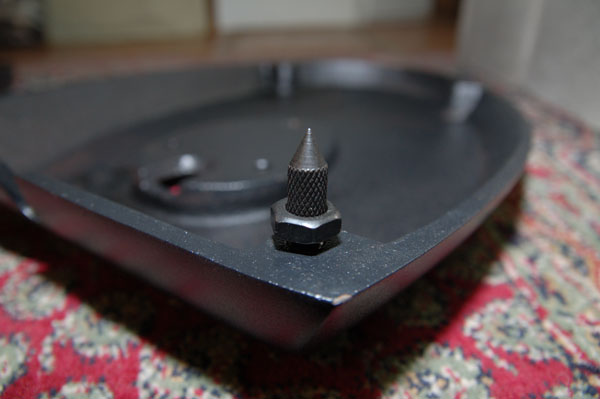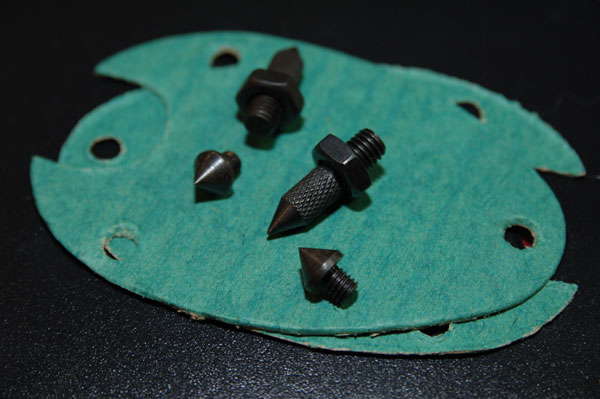 After the base plate and pillar were built, with the green fabric stopper between them, the pillars are easily filled with sand or shot. Â I filled mine with sand from Home Depot. Â Paid about $3 bucks for a bag heavy enough to break a back. Â A quick hint, get some masking tape and cover the gap between the base plate and the pillar. Â Sand will get in there as you fill the pillar up (from spilling it over the side) and will be difficult to get out. Â Also make sure to tap down the sand. Â This will get the air out and allow more sand to go in.