During Tuesday's Spring Fever press event, Samsung spilled their guts on two new MP3 players for 2009, the YP-U5 and YP-Q2, both scheduled for an April release.
The Samsung YP-U5 (aka the U5, aka DoReMi) has been roaming the wilds of Europe and Asia for a few months now, making a reputation for its affordable price ($39/2GB) and playful design. The player comes in a handful of colors (black, white, red, pink, blue), and includes a built-in USB stick, FM radio, FM recorder, custom EQ, DNSe audio enhancement, and support for MP3, WMA, and Ogg music formats. Battery life is rated up to 20 hours.
Photo of the Samsung U5 MP3 player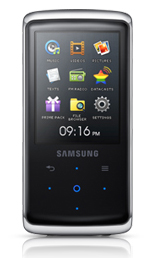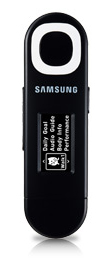 If you're looking for something with a little more substance, the Samsung YP-Q2 packs audio, video, radio, and photos, and is available in 8GB ($99) and 16GB ($129) capacities, offered in black or white.
source: CNet