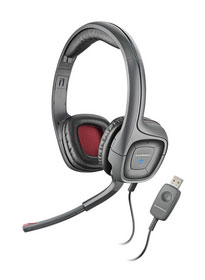 SANTA CRUZ, CA – Plantronics, Inc. (NYSE: PLT) today introduced the Plantronics .Audio(TM) 655 USB Stereo Headset for PC-based communications and multimedia. The .Audio 655 is the industry's first headset to take full advantage of the crystal clear audio quality of calls in the all-new version of Skype(TM) for Windows®.
The .Audio 655 is the first headset certified to work with Skype's new SILK speech codec, which was introduced earlier this year. This new audio codec delivers exceptionally clear conversations and achieves wideband audio quality (16kHz) using 50 percent less network bandwidth than previously required. Moreover, it introduces a new standard for speech quality — super wideband audio (24kHz) — which delivers crystal clear, richer and warmer sound to those using a compatible headset and a high quality broadband connection. Skype's bandwidth manager interacts with the codec to adjust quickly to fluctuating bandwidth conditions to produce the most reliable sound.
Read the rest of the article on www.msnbc.msn.com
Pricing and Availability
The Plantronics .Audio 655 USB stereo headset will be available at Best Buy for $49.99 beginning in April 2009. To learn more about the .Audio 655, please visit www.plantronics.com.