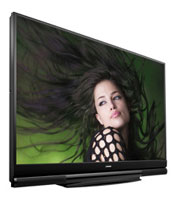 Irvine, Calif. — Mitsubishi Digital Electronics unveiled today its 2009 premium TV lines of flat-panel LCD TVs and DLP rear-projection HDTV sets.
In LCD TV, the company unveiled the new Unisen sub-brand, which will be used across three model series.
The new trademark denotes Mitsubishi's advanced on-board audio technology utilizing a built-in 16-speaker, 5.1-channel surround system.
The company also underscored its continued commitment to DLP rear-projection TVs as the last major brand representing the technology. The company will offer both a new Home Theater DLP lineup and will continue with its previously announced flagship LaserVue laser-light-based DLP set that was delayed due to a production glitch from the original roll out late last year.
The three new Unisen model series feature the 40-inch to 52-inch screen sizes and are billed as "immersive sound televisions."
Mitsubishi said the models are "the first premium flat-panel TVs with a 16-speaker Dolby Digital 5.1-channel surround-sound system designed right into the television."
read more info on Mitsubishi's new line ups on twice.com
source: twice.com