MSRP:

$ 300.00


Description: The OMNI 550 features two 6.5″ multi-layered fiberglass composite drivers and a 1″ aluminum dome tweeter mounted in a cleverly designed rear ported curved speaker cabinet. One of the 6.5″ drivers is used as a woofer that reproduces bass frequencies up to a crossover point of 700Hz. The other 6.5″ driver is mounted in a precisely aligned angle on top of the cabinet. It acts as a midbass driver, reproducing all bass and midrange frequencies to the tweeter crossover point of 2.2 kHz. This innovative design allows for room shaking bottom-end performance. It"s hard to put together a home theater system that looks as good as it sounds. But the OMNI 550 lets you do exactly that. The flawlessly finished curved cabinet of the OMNI 550 elegantly floats over a high gloss black base, which further increases the overall visual appeal of this unique loudspeaker. The OMNI 550 is available in a timeless Black Ash finish, so it will match almost any decor.

1 Reviews
1 Quick Ratings
5.00 of 5

More Floorstanding Speakers from Mirage >>
Search AudioReview forums for the Mirage OMNI 550 Main / Stereo Speaker >>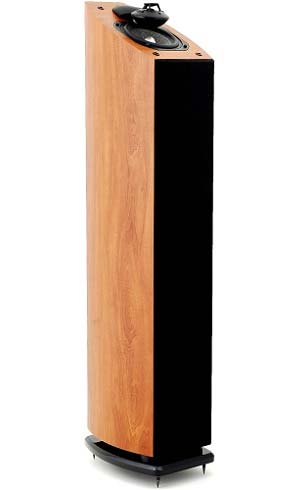 Reviewed by:cravnsn (AudioPhile)
Review Date August 11, 2009
Overall Rating
5 of 5
Value Rating
5 of 5
Used product for Less than 1 month
Summary:
More than any other piece of equipment, changing speakers and/or their configuration makes the biggest impact in an audio setup. Some people have a preference for reproduction of stereo music, and something different for home theater surround sound. Many people are limited by space or budget and try to buy speakers that will fit both bills. This can be difficult because many people perceive the sounds produced in movies as being different than a studio recording of music. Indeed, the way each is recorded and engineered is quite different, but the goal of the system reproducing the sound should be the same – a faithful recreation of what was recorded. And as we all know, how a speaker operates can have a great impact on how this is achieved. Direct radiating, bi-polar, di-polar, drivers pointed in varied directions…not to mention size of drivers, how many drivers, size & shape of cabinet, crossovers – there are many different combination to choose from. Each person has their own idea what makes for good & bad sound, so there is no right or wrong, just a difference in taste (and budget).
The designers and engineers at the Mirage speaker company recognized early on the sound does not radiate in one direction, as reproduced by direct radiating front firing speakers. Rather, sound radiates from a given source, then reflects from the boundaries near it – the floor or ground, walls, furniture, windows etc. It's the combination of these direct & reflected sounds which give information on location and size relative to the subject being recorded. This is how our ears hear and our brains perceive, but not always how the subject is being recorded. Most of us are familiar with the sound of an acoustical instrument, like a piano, acoustic guitar or drums & cymbals. Some of us have been fortunate enough to hear this music being played live, but likely we don't put our head right inside the piano, or right next to the drum. This though is typically the location for the microphones used for recording these instruments. In reading reviews of speakers you may see where the reviewer commenting on how the speaker "solidly placed the voice/instrument in it's proper place in space" although it was not recorded that way.
By introducing the first bi-polar speaker, Mirage added the depth & breadth that was lacking from many speakers, and re-introduced sound radiation in a more natural way. The speakers were heralded for opening a door long closed by conventional designs, and highly regarded in the audio community. Not willing to rest on their laurels, Andrew Welker set about measuring sound in a way that would reveal how sounds are produced. After extensive research, he concluded that (for the most part) the sounds reaching our ears are 30% direct & 70% reflected. This was a departure from the 50/50 approach of the bi-polar speaker and the result was a speaker that employed what the company called the "Omni-polar" design. The easiest way to visualize how this differs from traditional design is to look up a picture of one of their offerings. The first thing you notice is the top of the cabinet is slanted. The next thing is that little UFO looking thing sitting atop the driver in the slanted baffle. This houses the tweeter, and employs what is called a wave guide. This helps the sound reproduced by the speaker emanate in a 360 degree pattern, with 30% directed to the front of the speaker and 70% to the areas surrounding the speaker.
Enter the Omni 550 & 150 speakers. They are second generation speakers from Mirage which have popped up on several vendors web sites (Vanns, Amazon) at a great discount. For a mere $450 US, I got a pair of the Omni 550 & Omni 150 speakers shipped to me. That's $450 TOTAL for all 4 speakers! At that price, I just had to give them a try, and I'm glad I did. When they were first offered, the 550 was the "flagship" of the line, with the 150 doing a wonderful job in its place as a surround speaker. I've gone the "Phantom center" route for several years now because I like to have all the sound pan cleanly across the screen, and the 550's make a center practically non essential. Whether playing music or soundtracks, the speakers melt into the wide, deep & tall soundscape and disappear. Every note and every sound is produced with ease, even tonality and bass which belies the speaker's size. Indeed, when I first hooked them up, I had unplugged my subwoofer to get at the speaker cables, and forgot to plug it back in. I watched "Watchmen" in its entirety and never felt like I was missing out on any of the bass information. True, the LFE effects weren't there, but as this was the first time I watched the film, I didn't feel I was missing anything. But bass extension is only part of the goodness these speakers offer. As you might expect, the soundstage is spacious, with a rich, lush sound absent in so many speakers. Everything from 2 channel music to the most intensely engineered surround soundtrack is presented in a manner which envelops the listener, making them feel as though they are part of whatever action is taking place. Voices, sound effects, instruments…nothing gets lost no matter what you throw at them. A real testament to the speaker's capabilities is the move "Knowing" on Blu-ray. The plane crash scene with its screaming engines, explosions, fire & panicked passengers literally produced goose bumps, and made the hair on the back of my neck stand on end – something I've never experienced in my personal HT before. Bits and pieces that were flying all around were palpable to the point where I felt as though I were standing in the field next to the wreckage. Wanting to experience this again, I re-watched this scene the next day while the rest of my family was out of the house. I turned up the volume and let'er rip and – WOW! With 4 8 ohm speakers, my Emotiva XPA-5 is cranking out 230 watts, and the speakers never gave any sign of being distressed. Indeed, the sound was so real it was frightening.
Music is also presented in a manner in which the listener is part of the recording session, and not just subject to the end product of the engineers whims. Vocals, instruments – it's all there in 3D with as much realism as you could ask for, and sounds glorious.
I can't recommend these speakers enough, regardless of your budget. For the current asking price, they're a downright steal. Brand new, they carry the full 5 year warranty (from an authorized dealer) They look great, sound even better and would put a smile on your face as you blend in with the incredible sound they produce.
Associated Equipment:
Panasonic BD80 Blu-ray player
B&K reference 50 pre-amp
Emotiva XPA-5
Mirage Omni 550 & 150
Audioquest cables
---
Popular Floorstanding Speakers
more…

Top

Ranked

Products from Mirage.
AudioREVIEW works best with your help. Write a review for others.  It might be a highlight!