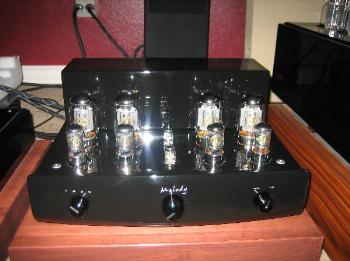 Intro pricing on new Melody MK88
December 8, 2010 – Angel City Audio, U.S. distributor for Melody Valve Hifi, is offering a special introductory price on the brand new MK88 stereo integrated amplifier.
Normally priced at $1929, the MK88 will be available for $1395 from now through the end of its debut showing at CES 2011 January 6-9.
The MK88 represents a new entry-level offering from Melody. It features a tube compliment of 4x KT88, 4x 6SN7, and 2x 6AK5, producing 32w of Class A power per channel.
In addition, Melody debuted a new top-end integrated in the AN211 and the new flagship MN845 mono amplifiers at Rocky Mountain Audio Fest in October. They are priced at $5679 and $12,869 respectively
Pictures and full specifications are available at EastStreetAudio.com, one of the dealers in the ACA network.
For a list of dealers contact:
Hugh Nguyen
Angel City Audio
info@angelcityaudio.com