Please note, the inspiration for this special edition user highlighted reviews is that the MG1.6 were recently rated the #1 best audiophile speaker for under $3,600 from CNet's Audiophiliac blogger Steve Guttenberg. With 181 reviews on audioREVIEW.com and a 4.63 out of 5 rating, Steve is probably right on the money. So here is your chance to find out more about ths wonderful speaker.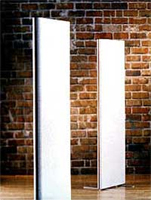 Reviewed by:


Feanor (Audio Enthusiast)
Review Date August 17, 2005
Overall Rating
5 of 5
Value Rating
5 of 5
Used product for 3 Months to 1 year
Visitors rate this review 4.08 of 5, 13.00 votes
Summary:
Magnepan's Magneplanar lineup are flat panel, full-range dipole speakers. The look a bit like narrow room dividers. By dipole I mean that sound comes out the back of the speakers as well as the front; the sound from the back is "out of phase" with that from the front. The radiating surfaces of the Magneplanar MG 1.6 are flat membranes: a wider one for low mid & bass, and a narrower one for upper mid and highs, (above about 600 Hz). Magnepan calls the latter a "quasi-ribbon". In my opinion, the MG 1.6 is a high-end speaker at a "mid-fi" price and one of the greatest audio bargains out there. See my list of Strengths, below.
In my judgment the advantage of the MG 1.6 (and other Magneplars), stems from the following: = It is a full-range dipole, and = It has uses low-mass, planar drivers for the whole audio spectrum. These attributes account for its extraordinary clarity, coherence, "air", and "you're there in the concert hall" soundstage. It is an inherent characteristic of all dipole speakers that they must be placed carefully to get sound good. In the MG 1.6 case, it is 3 – 4 feet from the wall behind and about 2 from the side walls. If not, the sound from the rear of the speaker will be reflected in such as way as to interfere with the sound from front, causing a quite raunchy and inaccurate result. (Failure to meet these conditions might have been Mr. Klementovich's problem but if so he didn't mention it.) With proper placement the Magneplars produce a sense of air and presence that few, if any, speakers can match.
But the MG 1.6 is no "rocker". If you like to listen to rock music at high volumes you might well be disappointed by the speakers. Inherently their planar membrane design limits driver excursion that in turn limits their ability to deliver hard-driving bass. This is not to say they don't have good bass, only that there are limits.
Strengths:
= Excellent detail and resolution = Smooth frequency response = Coherence, e.g. no discontinuity or dissimilarity between the drivers = Fabulous soundstage, air, and sense of the presence of the performers
Weaknesses:
= Proper placement is critical = Fairly large, imposing appearance = Ultimately limited bass dynamics = Require a relatively powerful, high-current amplifier
Similar Products Used:
Magneplanar MMG; B&W DM7; B&W CDM1
---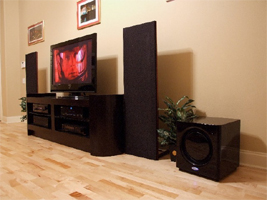 Reviewed by: digital (Audio Enthusiast)
Review Date November 30, 2004
Overall Rating
4 of 5
Value Rating
4 of 5
Used product for Less than 1 month
Visitors rate this review 3.58 of 5, 12.00 votes
(image: darqueknight88)
Summary:
Recently picked up a pair of Magnepan 1.6QR's and, as I spent so much time online in this and various other review sites in the past, wished to 'give something back'. At any rate, onward with my Magnepan 1.6QR review. Not your average audio-buff, I am not a fan of jazz, very little classical and no opera whatsoever. Rather, I spend a lot of time listening to Eric Clapton, Neil Young, Gordon Lightfoot, Tragically Hip and a wide variety of other soft / hard rock recordings. My audio system is nothing to write home about; a Technics SA-DA10 receiver, Toshiba DVD player and various monster cables.
The Magnepans are the front speakers for a 5.1 surround system, complimented by some Paradigm rears, center and sub. As a home-theater speaker they are fantastic, but as a critical listening stereo speaker they are astonishing. Though I have a quality sub, I turn it off in stereo; its simply not required. Roughly estimating, I would say that I have auditioned well over a hundred sets of speakers in my life, in most conceivable rooms with front-ends ranging from ultra, (Linn LP12, Krell & Levinson Pre' / Amps'), to average, (Pioneer / Yamaha etc.), and Magnepan's transducers have always impressed me the most overall. I had heard & read much that led me to believe that I – must – use these speakers with a powerful, (read 'audiophile expensive'), separate pre-amp and amplifier. In fact, the dealer cringed when I told him that I would be hooking them up to a Technics receiver. Not one to be swayed however, I urged the audio shop to allow me to audition the 1.6qr's with a quality receiver. They hooked me up with a NAD T773 receiver and NAD C542 CD player. So far, so good. I lined up some CD's that I had brought with me and sat back.
Listening to a variety of CD's, all went well until about an hour into the listening session. John Lee Hooker's sharp licks on Tupelo, (from the CD 'Chill Out' – Virgin Music), shut the receiver down hard while playing at just slightly over half-volume. While this was at a level that I would consider as 'nearly loud', (the speakers are a in-efficient), I was disturbed that a receiver of this heritage, (and price), could be shut down so easily. That aside, I had auditioned several other maggies and was determined to take home the 1.6's. I felt that I could run the Technics very low and pop for a stand-alone pre' & amp' later.
However, since arriving home I have run the Technics receiver a little over half-volume on quite a few occasions and have yet to shut down or even audibly distort the receiver. Often my sessions run many hours. I can only attribute this oddity to the NAD having much more sensitive clipping circuits. The only reason that I have not pushed the receiver even harder is that I understand that (most), speakers require a gentle burn-in period. Thought that might be a wife's tale until I actually read it in the Magnepan user's manual.
Details; my listening area is odd; it's a long room, about 16 feet across and perhaps 40-ish feet long. One end hosts a dining room with antique furniture, while the other end is mostly modern, (computer desk / audio gear). In this end I have the 1.6QR's, TV, center channel and electronics set up facing across the short length of the room at my sweet spot. The room acoustics are slightly deadening; carpeted with soft furniture, though the walls are 'hard' in that they support few hangings with sound-dampening characteristics. The room also plays host to a wide array of my wife's large plants.
Strengths:
Must say, the 1.6qr's are, hands down, the very best speakers that I have had the pleasure of experiencing in my home, or in any retail sound rooms for that matter. Music from planar magnetic speakers is something that has to be heard to be believed. All of the eloquent words in the world that I can type here don't even begin to do justice to the sound stage that the 1.6qr's reproduce. Though the physical size is initially somewhat imposing, I have grown to like them a great deal. They have a very bold aura about them with their immaculate cloth covers and subtle wood trim.
Weaknesses:
First off, they are quite large; I mean really quite large. When you take them home and set them up for the first time the masculine side of you gets the Tool-Time-Tim Harrumph! feeling, but the feminine side starts glancing around nervously for your spouse… They are simply physically imposing, (this apprehension melts away rather quickly once you actually hear them, but the initial view is rather stunning). As much as you want to pop in your all-time favorite CD, I strongly suggest that you start by playing your significant others' most treasured recording; Loreena McKennitt's 'The Visit', worked for me, and I might add, I enjoyed it as well. The only other nit-pick that I can offer are towards the stands. Lets face it; these puny metal flat-bar stands are downright homely. Come on Magnepan, you can do better than that – you are dressing up a queen in old sneakers! These are beautiful speakers with some really ugly stands! I am led to believe that there are third-parties which supply athletically appealing stands for the Magnepan line, but one should not have to purchase aesthetically appealing stands from elsewhere for speakers of this caliber / class. I will have my brother-in-law, the master-carpenter create some really fantastic rounded oak or mahogany stands with hidden rear attachments for my Magnepans and will sell pairs to those interested as well! The only thing that stopped me from giving this speaker a perfect rating is that the stands are so poor!
Similar Products Used:
Magnepan MG12, MGII's and a wide variety of 'classic' cabinet speakers.
A word from Magnepan
One of the advantages of quasi ribbon drivers is the extremely wide frequency band width. In addition to rugged power handling , the quasi ribbon driver of the MG1.6 handles over 5 octaves of the critical midrange and high frequencies (500Hz to over 24kHz). The result is low distortion and seamless ribbon clarity–a sound so clear and effortless that is has changed the thinking of thousands of audiophiles about planar speakers.
Small box speakers are very popular. We aren't designing and manufacturing large planar speakers just to be different. If we could shrink the unique sound of Magneplanars into a small box. Magneplanars would be as well-known as Bose. Despite the advances in technology, no small speaker exists that can duplicate the performance of a full-range planar speaker.
Some physicists argue that the large wave launch, low surface loudness, etc. are unique to planar speakers. The physics require the size and shape of a Magneplanar. In part, the MG1.6 offers superior sound because of its size and shape. Thousands of audiophiles see Magneplanars in a different light once they fall in love with the sound of planar speakers.
The MG1.6 offers ribbon technology and planar bass resolution at a price that some audiophiles spend for speaker cables. Musical value is what Magneplanars are all about. Ask your dealer or call Magnepan at 800-474-1646 for copies of reviews of the highly acclaimed 1.6.
There are many conversations on this unique speaker on the audioREVIEW forums, check them out.
There are 179 more reviews on the MG 1.6 here.

More Magnepan speakers on audioREVIEW
Magnepan Hot Deals



>> Special Web Deals for You!

Magneplanar
MMG C

$299

Promo Code 1001
Magnepan

Magneplanar
MMG W

$325 pair

Promo Code 1001
Magnepan
The top 5 reviewed products from Magnepan.
More resources:
Magnepan Owners group: www.integracoustics.com/MUG/MUG/
What about sound damping for Magnepans? Thread in forums has some answers.
What about an amp? Class D amp and POWER: Here is a thread on it on the forums.