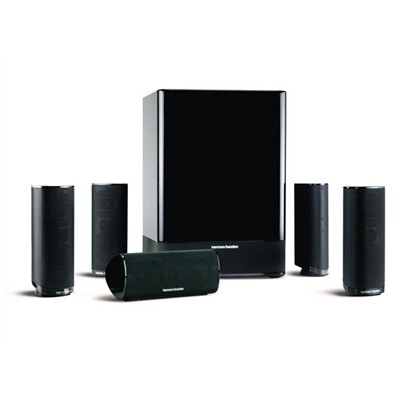 NORTHRIDGE, Calif., Mar 23, 2010 — Harman International Industries, Incorporated (www.harman.com), today introduced two new 5.1-channel home entertainment solutions. The HKTS 20 and HKTS 30 boast exceptional audio performance and elegant design featuring 5.1-channel sound, a 200W powered 8″ subwoofer and five two-way loudspeakers.
An action-movie-fan's dream system, the home theater packages include a dual-driver center-channel speaker for vivid and distinct movie dialogue, four compact satellites to pull every viewer into the exploding action and a powerful subwoofer for heart-stopping base. Every product by Harman Kardon is designed equally to deliver maximum form and function. The HKTS 20 and HKTS 30 are no exception.
The new industrial design of the speaker systems features a compact powered subwoofer with a high-gloss black-lacquered cabinet, an 8″ subwoofer, a 200W digital amplifier and constant directivity waveguide tweeters for more high output. Sleek and powerful, this elegantly designed system will transport viewers directly into the movie experience in the comfort of their own home. Both the HKTS 20 and the HKTS 30 are also compatible and right at home with the new cutting-edge 3-D TV technology just hitting the market.
source: MarketWatch