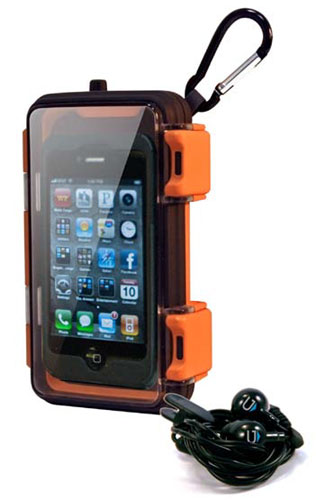 Water and crush proof case with 100% waterproof earbuds, keeps your gear protected and allows you access to your tunes anywhere
San Diego, Calif. – (August 4, 2011) – Grace Digital Inc, a leading brand of internet radios, wireless speakers, and outdoor audio solutions, launches the Eco Pod, a 100% water, sand, and shock proof case. The latest addition to Grace Digital Audio's Eco line of rugged outdoor gear for your iPhone, iPod, Android, and mp3 player, the Eco Pod is the ideal accessory for the outdoor enthusiast. Equipped with 100% waterproof earbuds, Eco Pod allows you to take your tunes anywhere, knowing your phone or mp3 player is protected and dry. Available now and affordably priced at $49.99 at GraceDigitalAudio.com.
Water, dirt, grime, and all the outside elements can destroy your smartphone and make it difficult to bring not only your music, but also your contacts, text messages, emails, facebook, and twitter accounts with you while outdoors. Wrapped in a water and shock proof polycarbonate shell, Eco Pod protects your gear from drops, unexpected rainstorms, ocean waves, and beach sand. With the convenience of 100% waterproof earbuds, you can listen to your tunes in or out of the water. The universal headphone jack works with all headphones or ear buds, allowing you to use your current set when waterproofing isn't necessary.
With an internal storage compartment large enough to carry a mobile device, credit cards, driver's license, cash, and keys, the Eco Pod keeps all the necessities close by, safe, and dry. Eco Pod's convenient clear front panel allows for easy viewing of your devices screen. The 2" carabineer clip is ideal for hooking to a backpack, camping tent, or even to the back of a beach chair, making for easy storage no matter what the adventure.
Eco Pod features include:
• 100% Waterproof iPod®/iPhone®/Smartphone/mp3 player case, with waterproof earbuds
• Internal storage compartment holds keys, mobile phone, MP3 player, credit cards, drivers license and cash, keeping them safe from sand, sun, and water
• Clear front panel allows easy viewing of incoming calls, text messages, movies or your favorite GPS mapping software
• High impact polycarbonate shock proof casing withstands drops, falls and spills
• Uniquely designed exterior pressure release valve ensures case is closed air tight and easily opened at low or high altitudes
• Includes a 2" detachable carabineer clip, making it ideal for backpacking, biking, beach trips, and camping
• IPX7 Approved (International Weatherproofing Standard), waterproof 3.5mm audio jack works with any mobile phone or MP3 player
• Mount your Eco Pod to your bike with the Eco Clip sold separately
"There are many water resistant audio devices and earbuds on the market, but the Eco Pod provides waterproof casing and 100% waterproof earbuds," says Grace Digital's Chief Marketing Officer, Greg Fadul. "Grace Digital's Eco line allows users to add their music to all their great outdoor experiences. You don't have to worry that it's going to rain while you're at the park, or that your phone might get dirty and wet while at the beach or on a boat, the Eco Pod and the original Eco Extreme let you take your music anywhere your adventures take you."
To request additional information about Grace Digital Audio, please contact PR Representative Brad Hobbs at (305) 576-1171 x119 or by e-mail at bradhobbs@maxborgesagency.com. To go to Grace's web site click here.
Based in San Diego, California, Grace Digital Audio provides a family of audio products with the highest levels of quality, support and service. From internet radios to wireless indoor/outdoor speakers, Grace provides audio solutions for every situation. Grace's innovative iPhone & iPod Touch application allows users to control any Grace Internet radio with one convenient control. Grace sells its products through major retailers, ecommerce sites, dealers and distributors throughout North America. To learn more about Grace Digital products please visit them at www.gracedigitalaudio.com.