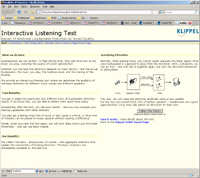 Forum moderator E-Stat found an interesting little audiophile test for us all. Requires Macromedia Flash 6.
- AudioReview.com
---
I was baited by an "objectivist" on another audio board to *match* my skills with his using an online sound distortion comparator. He considers components that I find can be of value like aftermarket power cords to be unsubstantiated *voodoo*. Alas, that is his loss, not mine.
For anyone game, here is the link: Distortion comparator
It requires using your (less than ideal) PC and headphones. I used a bone stock Dell laptop and Shure earbuds. Running on battery of course. The musical selection is not exactly my cup of tea either. In any case, see how you can do. My tempter achieved the -30 db level whereas I was able to go a bit further. What this really illustrates is the value of training and the notion that sometimes we must be told what to listen for. In my teens, I was most fortunate in having three mentors (all audio reviewers) who coached me in such affairs. Of the entire clip, I used only a select two second section to make my determinations.
Give it a try!
---
What do you think?
Original Forum Thread: http://forums.audioreview.com/showthread.php?t=26428