PowerLite Home Cinema 700 Offers Affordable Home Entertainment Experience for Gaming, Movies and More
Last update: 3:05 a.m. EST Nov. 10, 2008

LONG BEACH, Calif., Nov 10, 2008 (GlobeNewswire via COMTEX) — Expanding its leadership in the front projector market to the entry-level audio video consumer, Epson today announced the feature-rich, value-priced PowerLite(r) Home Cinema 700. The latest in Epson's line of 3LCD home theater projectors, the Home Cinema 700 offers 720p high definition resolution, high brightness and superior image quality for only $799, delivering an amazing and affordable home entertainment experience to a new range of consumers.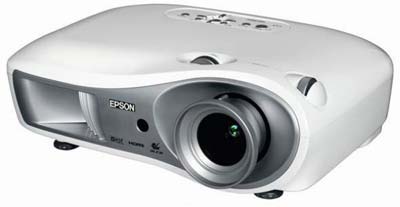 As the number-one selling projector brand worldwide(i), Epson has packed the Home Cinema 700 with a wide variety of consumer-friendly features and benefits, making home theater projection simple and easy for first time buyers or do-it-yourself AV enthusiasts. Featuring industry-leading 3LCD technology for brilliant high-definition widescreen images and video with amazing detail and no possibility of color break-up or distracting "rainbow effect," the Home Cinema 700 offers movie theater-like images with up to 2,000 lumens of brightness, seven pre-set color modes and HDMI connectivity.
Read the rest at MarketWatch….
HDTVExpert.com has a great review on the projector concluding this….
Epson's Powerlite Home Cinema 720 is one of the better low-cost home theater projectors I've tested. It looks great when fed a steady diet of 720p and 480p content, but is a bit challenged with 480i and 1080i program material. Even so, the projector's longer throw lens, full range of image adjustments, and two-axis mechanical lens shift (coupled with a good upscaling DVD player) make up for its shortcomings.
source: Market Watch | HDTVExpert